Makinex Appoints Peter Maginnis General Manager
Maginnis will help drive sales and distributor network growth in the U.S. and Canada.
---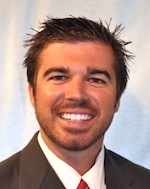 Makinex is pleased to announce the continued growth of Makinex USA with the appointment of Peter Maginnis.
Maginnis joined the Makinex team on June 1, 2015, after spending the last 10 years in the rental and self-storage industry.
Rory Kennard, says "I met Peter as part of the Global Rental Alliance in Australia and we have stayed in touch ever since, he has been a great mentor to me in setting up Makinex USA, I am very excited to have him as part of the ever growing Makinex team, and am looking forward to working with him full time to grow the American arm of our business."
Peter will be working from Makinex' new North American Head Office based in Los Angeles, as the company expands in North America and Canada with the new business partnership between Makinex and Home Depot Canada and Home Depot online for its Jackhammer Trolleys and Tile Smasher Heads.
The Makinex range in North America currently includes the Jackhammer Trolley, Dual Pressure Washer, Mixing Station and The Powered Hand Truck. The company is eagerly expanding its distribution chain and dealer relationships in the future and plans to introduce new products as well.
For further details, visit www.makinex.com.au or www.Makinex.com.