Enerpac releases new Bolting Tools catalog
Catalog is available in print and online.
---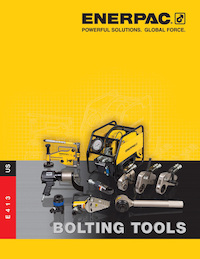 Enerpac announces its new Bolting Tools catalog is now available in print and online for download. Featuring solutions for the complete bolting work-flow, the catalog includes Enerpac's comprehensive bolting line for joint assembly, controlled tightening and joint separation.
Designed in an easy-to-use format, the Bolting Tools catalog introduces several bolting application challenges and solutions with a unique product range overview. A variety of challenges are included, such as misaligned joints, controlled bolting or frozen or corroded nuts and corresponding solutions. The product overview also features product images for easy referencing and ordering.
In addition to a product range overview, the catalog provides complete details for each product line, which are clearly separated by product function. Each product page includes performance features, applications and a selection chart with specifications and model numbers.
The catalog highlights several new bolting products, including:
UltraSlim torque wrenches for high-performance bolting in tight spaces
X-Edition hydraulic torque wrenches, which improve operator safety and productivity and are available in S-Series square drive and W-Series low-profile hexagon models.
PTW-Series pneumatic torque wrenches with high-speed, continuous rotation for constant torque output
Enerpac's Bolting Tools catalog also provides valuable technical information with an overview of bolting theory, torque tightening and tensioning, and it serves as a useful industry resource with information on bolt and nut sizes, conversion factors and pressure to torque tables.
To download the Bolting Tools catalog, visit: www.enerpac.com.