Posted December 21, 2015
Charlotte distributor Don Blume passes away
Industry patriarch and Charlotte philanthropist died December 19, 2015.
---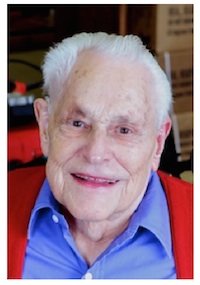 Donald Stephen Blume, Sr., 87, founder and patriarch of Blume Supply in Charlotte, North Carolina and driving force behind the creation of Charlotte's Presbyterian Blume Pediatric Hematology and Oncology Clinic, left this Earth to join his wife and daughter on the morning of Saturday, December 19, 2015.
Don was born on September 20, 1928 in Clover, S.C. he is survived by his son Donald Stephen Blume, Jr., and his wife, Jenny; his daughter Darlene Blume Sprinkle and her husband, Randy; four grandchildren and five great-grandchildren.
Don's career began as an usher at the Carolina Theater and as a skate messenger for Western Union, skating messages to tellers. He worked for Snap-On Tools before being drafted for the Korean War in 1950.
He served in the 773rd Tank Battalion and was a tank gunner for the Commanding Officer. He was offered an Officer's Commission but elected to return to civilian life. Upon leaving the military, Blume rejoined Snap-On, working for six years before joining Rockwell International where he worked for the next 16 years.
He founded Blume Supply in 1974 and 41 years later it remains one of the region's premier construction tool and supply specialty houses. As the company prospered, Blume began a long second phase of life as a philanthropist, and generously supported numerous local charities. In 2001, Presbyterian Hospital recognized his years of support by naming the family name on a pediatric cancer clinic. The Presbyterian Blume Pediatric Hematology and Oncology Clinic has since become part of the St. Jude Children's Research Hospital, one of only seven nationwide.
Funeral proceedings will be on Tuesday December 22, 2015 at First Baptist Church of Charlotte located at 301 S. Davidson Street. A viewing will take place at the church at 12:30 p.m. and the funeral service will follow immediately afterward at 2:00 p.m.
There will then be a procession to the grave site at Sharon Memorial Park, located at 5716 Monroe Road. All are welcome to honor him in a military style funeral.
In lieu of flowers, donations can be made to the Presbyterian Blume Pediatric Clinic, 301 Hawthorne Lane, Charlotte, NC 28204; to the Sherri Blume Memorial Fund or the Betty Blume Memorial Fund, c/o Covenant Health, 200 Hawthorne Lane, Charlotte, NC, 28233.
Blume Supply was the subject of a cover story in the April/May 2013 issue of Contractor Supply Magazine. Those interested may read it here.