Posted January 20, 2016
Los Angeles to build world's most expensive stadium
$2.6 billion complex shows off flowing lines.
---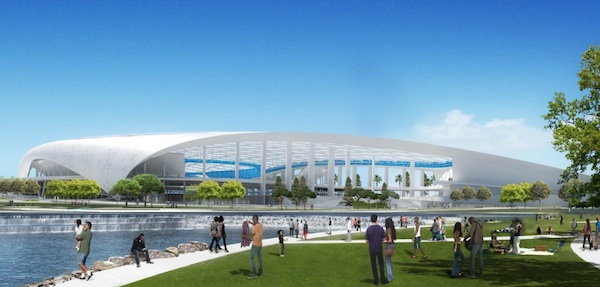 Los Angeles will welcome the return of NFL football with the construction of a new 80,000-seat stadium complex and "NFL Disney World," expected to become the world's most expensive sports arena.

The 300-acre development in Inglewood, a few miles from downtown Los Angeles, will provide a new home for the NFL's Rams franchise, whose return to their former home city was approved by league officials last Tuesday. The development has an estimated cost of $2.6 billion -- more than $1 billion more than New Jersey's MetLife Stadium, currently the league's most costly venue.

The capacity of the new stadium could exceed 100,000 for special events, say developers. Inglewood Mayor James Butts has already announced ambitions to host the Super Bowl at the arena, which developers say will be the "cornerstone" of a year-round sports, music, and entertainment events district.
Click here to read the complete story and see more photos.
Source: CNN.com