Posted February 9, 2016
JCB North America hosts annual dealer training event
Hosts 163 dealers in week-long construction equipment training event.
---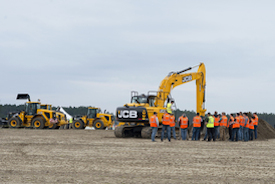 Dealers view a live demonstration of JCB's JS220 excavator
JCB recently hosted 163 dealer sales personnel as part of a week-long construction equipment training event in Savannah, Ga. The event was part of the company's ongoing JCB Field Days initiative, which includes a series of opportunities to get salesman and customers into the seat of JCB machines.
This year's inspirational construction equipment training theme was "The Gloves Are Off," a nod to JCB's aggressive approach to growing market share through its authorized dealer network in the United States, Canada and Mexico.
The week began with an overview presentation in the JCB theatre covering the global and North American markets, followed by a tour of JCB's North American headquarters and manufacturing facility. Attendees then headed out to the field for hands-on training and equipment demonstrations led by JCB's product team.
Featured JCB equipment included compact excavators, backhoe loaders, production excavators, wheel loaders, telescopic handlers, skid steer loaders and compact track loaders. Attendees also learned about JCB's newest finance programs, marketing initiatives, aftermarket support, LiveLink telematics solution and available attachments while at the event.
"This annual training event allows us to showcase JCB's latest equipment innovations," states Thom Peebles, Vice President of Marketing for JCB North America. "Dealers attend from across the country to gain valuable stick time, which allows them to better represent JCB products all year long."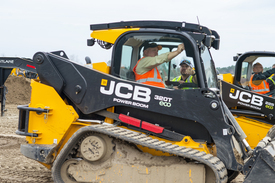 JCB's Bill Abraham operates JCB's 320T skid steer.
As part of the event, JCB hosted a celebratory oyster roast and Low Country boil. During the dinner, several dealer salesman awards were issued for contests run and top performing sales personnel in 2015.
"Our dealer salesmen and saleswoman are an integral part of JCB's overall success," states Dan Schmidt, Vice President of Sales for JCB North America. "The efforts of every JCB sales representative contribute to our increasing market share in the United States, Canada and Mexico. We couldn't do it without their long-term dedication and commitment to helping us build the JCB brand in their local markets."
JCB is a privately-owned, global company that manufactures over 300 different machines from 22 plants on four continents including the United Kingdom, India, Brazil and the United States. Equipment lines offered include: backhoe loaders, Loadall telescopic handlers, excavators, wheel loaders, articulated dump trucks, rough terrain forklifts, compact excavators, skid steer loaders, compact track loaders, compaction equipment and the unique Fastrac tractor. For more information, visit www.jcbna.com.