Posted March 22, 2016
STAFDA to offer new educational programming
WayPoint Analytics video series features industry leaders on supply chain subjects.
---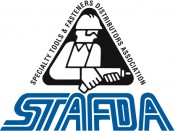 WayPoint Analytics has partnered with STAFDA to offer their top 45 online video training tools for member use.
Unlike TED clips or time-consuming online training tools, these are short videos averaging 5-15 minutes in length which hone-in on key supply chain education: profit margin, strategies, leadership, cost-to-serve modeling and a host of other business-focused topics. They also have blogs.
The video clips are led by industry experts such as Bruce Merrifield, Brent Grover, Dirk Beveridge, Randy MacLean and others. Visit http://stafda.distributioneducation.org to access high-quality, online education for your company.