Posted March 30, 2016
Kleis Equipment named Barko Hydraulics dealer for New York
Kleis will carry the full line of Barko forestry equipment.
---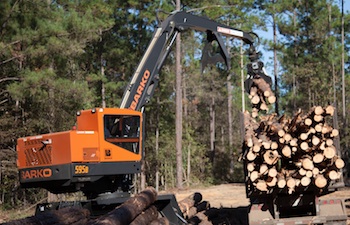 Barko Hydraulics, LLC announces the addition of Kleis Equipment LLC to its dealer network for all forestry equipment product lines. Located in Constantia, New York, Kleis will carry Barko equipment for most of New York State.
"It is great to have Kleis Equipment come aboard as a new dealer for Barko," said John Janiro, Barko's Director of Sales, Eastern Region. "Their extensive experience in the outdoor power equipment and logging industries make them an ideal fit for our brand of premium forestry machines."
Kleis Equipment was founded in 1997 as a small, family-owned firewood and logging operation, and has since grown into a full-service outdoor power equipment supplier. In addition to its lines of new products, Kleis has done a significant level of business in the used equipment market. The company's service center provides parts and maintenance for a wide array of machine makes and models.
Kleis will carry the full range of Barko forestry products, including loaders, harvesters, industrial wheeled tractors, forwarders and biomass chippers.
"We're very excited about the partnership with Barko," said John Kleis, owner of Kleis Equipment. "We look forward to building around the Barko product lineup and expect that it will become the backbone our dealership. In particular, there is great potential for sales of Barko loaders in this area, and we are hopeful to find a successful niche with their harvesters and feller bunchers. It's an excellent opportunity for everyone involved, especially our customers."
Barko Hydraulics, LLC is part of the Pettibone, LLC Heavy Equipment Group. Founded in 1963, Barko has served the industry with innovative solutions to the forestry, scrap and construction markets, including industrial tractors, crawlers, handlers, loaders, forwarders, chippers and harvesters. For more information, call 715-395-6700 or visit www.barko.com.