Posted April 18, 2016
Acrilex launches online factory store
Site offers designer acrylic sheets with no minimum purchase.
---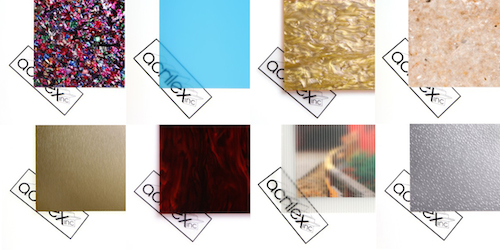 Acrilex Inc., a leading distributor of plastic products, has launched a new online Factory Store to offer the company's specialty and one-of-a-kind Acriglas colored acrylic materials.
All products are available in small quantities and with no minimum purchase.
The Acrilex Factory Store (www.acrilex.com/shop) was specifically opened to fulfill the creative inspirations of designers, makers and manufacturers needing only a few square feet of ready-to-ship acrylic sheets.
"Our customers have been requesting access to our edgy line of acrylic materials in small quantities," says Daniel Rustin, marketing director at Acrilex. "We listened and responded with the launch of the Acrilex Factory Store. It offers everyone from sign shops, display fabricators and lighting manufacturers to exhibitors, jewelry makers and hobbyists with a single, online outlet to purchase our unique acrylic sheets."
The website allows users to filter hundreds of results by materials, textures and color groups. Consumers are encouraged to check back regularly since the Factory Store's inventory is constantly updated with new, exciting colors and products as they become available.
In addition to Solid Colors, the store offers Frosted, Glitter, Glow in the Dark, Impressions, Marble, Metallic, Minerals, Mica and Pearlescent acrylic sheets.
The Acrilex Factory Store highlights include the:
Largest selection of unique acrylic sheets on the web
Availability of hundreds of products easily searched by textures and color group
Choice of designer acrylic products that can be screen printed, engraved and laser cut
Ongoing update of stock with new products added daily
Products that are in-stock at the time of purchase and ready to ship
The factory store was launched to inspire designers and makers from all industries to Get Creative with the largest selection of acrylic materials on the web.
Additional information can also be obtained from 800-ACRILEX (227-4539) or factorystore@acrilex.com. Learn more at www.acrilex.com.