Posted April 21, 2016
Makita named official power tool of 2016 Copa America Centenario soccer
Makita joins eight industry-leading companies as an Official Partner of soccer tournament's 100th year of world class competition.
---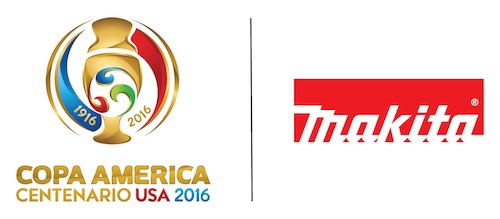 Makita has expanded its presence in the world of soccer as the Official Power Tool and Official Partner of the 2016 Copa America Centenario. It is the latest in a growing number of Makita initiatives that engage the professional tool user through soccer, the fastest growing sport in the United States.
Makita joins Anheuser-Busch, Coca-Cola, Delta Air Lines, Nike, Samsung, Sprint, State Farm and Swiss watch brand TAG Heuer as tournament partners.
Copa America is the oldest international continental competition and will feature some of the world's best players from North, South, and Central America and the Caribbean. The Copa America Centenario honors 100 years of the Copa America Tournament, with competition from June 3-26, 2016, in 10 markets across the United States.
Two 100-Year Milestones
"It is a privilege to be a part of the Copa America Centenario," said Ken Hefley, Senior Vice President Marketing, Makita U.S.A. Inc. "Makita Corporation just celebrated its 100 year anniversary so we appreciate the milestone that Copa America has achieved. As an active sponsor of soccer here in the United States, Makita has watched the beautiful game attract a growing number of fans, including big numbers from our audience of professional contractors and tool users. Makita is excited to help bring some of the world's best teams and players to the legions of soccer fans here in the U.S.A., and along the way bring new supporters to the game as Copa America looks ahead to another 100 years of world class competition."
Bringing Copa America to Tool Users and Dealers
Makita will deliver the excitement of Copa America Centenario to professional tool users and dealers across America through online sweepstakes, in-store promotions and activation, and more. On match days, fans can look for Makita-hosted game-day celebrations with local dealers and contractors, as well as on-site Makita tool demonstrations.
Makita's Expanding Presence in Soccer
Copa America Centenario is the latest in Makita's expanding presence in soccer which includes the Official Power Tool sponsorship of Major League Soccer (MLS), and sponsorship of Mexican National Team (MNT) during its annual matches in the United States.
Makita recently launched the "Road to 2016 MLS Cup Sweepstakes", an exciting opportunity for fans to enter for a chance to win a trip to the 2016 MLS Cup by showing the world their favorite Makita tool with a photo or video #MyMakita on social media.
Tournament Opens June 3
Copa America Centenario will open on Friday, June 3, when host United States welcomes Colombia to Levi's Stadium in Santa Clara, California. The inaugural match will kick-off at 9:30 p.m. ET. Copa America Centenario will be televised around the world, and on Univision and FOX family of networks in the United States. For more information including competition schedule and detailed broadcast schedule, go to www.ca2016.com.
About Makita
Makita is a worldwide manufacturer of industrial quality power tools and offers a wide range of industrial accessories. Makita U.S.A., Inc. is located in La Mirada, California, and operates an extensive distribution network located Learn more at 800/4-MAKITA or visit www.makitatools.com.