Posted May 18, 2016
Makita named Vendor of the Year
Wins Sphere 1 Vendor Partner of the Year for the second year in a row.
---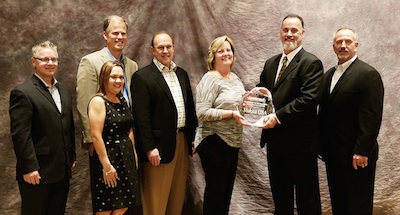 For the second year in a row, Makita U.S.A., Inc. took the top honor as Vendor Partner of the Year at the annual meeting of the Sphere 1 cooperative.
Accepting the Sphere 1 Vendor of the Year Award for Makita (left to right): Brent Withey, Brand Marketing Director; Cheryl Kramp, IC Channel Marketing Manager; Ken Hefley, Sr. Vice President, Marketing; Rich Chapman, Sr. Vice President, National Sales; Theresa Westphal, National Accounts Manager; Ron Schachter, Vice President, Sales; Chuck Lilly, Regional Sales Manager.
Makita U.S.A., Inc. has been named Sphere 1 Vendor Partner of the Year for the second year in a row. Makita received the award before the Sphere 1 membership during the Annual Meeting last night at the JW Marriott Grande Lakes in Orlando.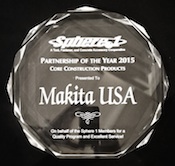 Makita Tops Ranking of 97 Vendors
"Makita earned the best overall score on the Sphere 1 Annual Support Card which ranks all 97 vendors on six individual criteria important to the success and growth of our cooperative," said Carol Shackelford, Sphere 1 CEO. "Our relationship with the Makita organization continues to grow and flourish due to their excellent leadership, great products, and solid sales team."
"For the second year in a row, the entire Makita organization is proud to be recognized as Vendor Partner of the Year by Sphere 1," said Rich Chapman, Makita Senior Vice President of Sales.
"At Makita we are focused on bringing more innovative solutions to contractors, and working with our dealer partners to achieve sales success. We look forward to continued partnership with Sphere 1 in 2016."
Sphere 1, a cooperative of independent tool, fastener, and concrete accessory distributors, recognizes a single vendor partner each year in the Core Products category. The award is based on successfully meeting six key criteria including member balloting, volume, growth, number of members buying from each, successful Gateway for Growth planning, and Sphere 1 University Student Course completion.
Makita continues to deliver new solutions that help contractors solve problems and work more efficiently. Makita created the 18V lithium-ion cordless tool category in 2005 and today offers over 125 18V LXT tools, the world's largest cordless tool line-up powered by 18V lithium-ion batteries.
Makita also engineers concrete hammers with Anti-Vibration Technology for best-in-class vibration reduction, new dust extraction accessories, cleaner-burning 4-stroke engine outdoor power equipment and more.
For more information, call 800/4-MAKITA (800/462-5482) or go to www.makitatools.com.