Posted May 25, 2016
DDI System issues new white paper
Paper covers advanced demand forecasting for distributors.
---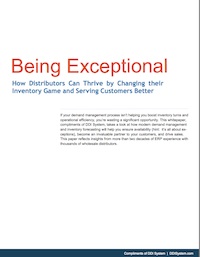 If your demand management process isn't helping you boost inventory turns and operational efficiency, you're wasting a significant opportunity.
This whitepaper, compliments of DDI System, takes a look at how modern demand management and inventory forecasting will help you ensure availability (hint: it's all about exceptions), become an invaluable partner to your customers, and drive sales.
This paper reflects insights from more than two decades of ERP experience with thousands of wholesale distributors.
Click here to download the white paper.
Learn more at www.ddisystem.com