Posted June 7, 2016
SSP named exclusive SE U.S. supplier
Becomes exclusive manufacturer of USG Shaft Wall and Area Separation Wall framing components.
---
Steel Structural Products (SSP) is pleased to announce that effective June 30, 2016, it will exclusively license and manufacture in the Midwest, Mid-South, Mid-Atlantic, and Southeast United States, all USG Shaft Wall and Area Separation Wall framing components, including:
| | |
| --- | --- |
| USG Shaft Wall System: | USG Area Separation Wall: |
| -USG J-Runner | -USG C-Runner |
| -USG CH-Stud | -USG H-Stud |
| -USG E-Stud | |
| -USG Jamb Strut | |
Offering the industry's first and most specified shaft wall and area separation wall systems for residential and commercial construction, USG solutions continue to exceed even the most stringent standards, ensuring the safety of the property and its occupants. For more information, consult the USG Shaft Wall Systems Brochure (SA926) and the USG Area Separation Wall Systems Brochure (SA925) on usg.com.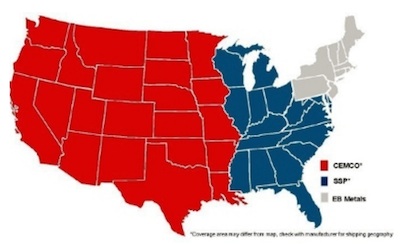 Manufacturing will begin in both the Jeffersonville, IN and Birmingham, AL facilities, which are deliberately located adjacent to Mill Steel Co.'s steel service center locations.
This enables SSP with the ability to leverage Mill Steel's processing services and freight carrier network, enhancing SSP's service capabilities and saving customers time and money. The strategic production positioning allows SSP to service the construction markets highlighted in the states shaded within the map shown.
The President of Steel Structural Products, Scott Stuckert, said SSP is excited to expand its framing service and product portfolio through this partnership with USG and is looking forward to offering additional quality steel framing and accessory products.
Founded in 1959, Mill Steel Co. is one of North America's premier flat-rolled steel suppliers. Serving some of the world's most demanding industries; the business has grown over the past 57 plus years. Headquartered in Grand Rapids, MI, Mill Steel operates five service centers locations including Grand Rapids and Melvindale (Detroit), MI, Jeffersonville, IN, Birmingham, AL, and now Anderson, IN. Mill Steel continues to grow by sticking to its founding principles: Reliability. Accountability. And doing what they say they will, and then some. We've organized our company around those values, investing in new technologies and markets along the way. For more information about Mill Steel Co., visit www.millsteel.com.
Steel Structural Products (SSP), a division of Mill Steel Co., is expert in servicing its customers with their metal framing requirements for the commercial and residential construction industry. Since 2005, Steel Structural Products (formerly Steel Structural Services LLC, or Tri-S) has dedicated itself to building strong, solid relationships through excellent service, quality products, and reliable delivery. Now combined with Mill Steel's infrastructure, vast industry expertise, and 57 plus years of proven success within the carbon flat rolled steel services industry, SSP is a great partner to its customers and one they can trust. Headquartered in Jeffersonville, IN, Steel Structural Products operates manufacturing locations in Jeffersonville, IN and Birmingham, AL adjacent to Mill Steel's service center locations. Learn more at www.steelstructuralproducts.com