Posted June 8, 2016
Hitachi wins Sphere 1 award for fourth consecutive year
Company recognized for highest sales by brand.
---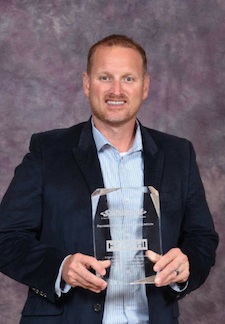 Hitachi Vice President of Sales & Marketing, Joe Leffler, accepts the award for highest sales by brand on behalf of Hitachi at Sphere 1's annual meeting in Orlando, Florida.
Hitachi Power Tools has been recognized for the fourth year in a row for highest sales achievement by brand with Sphere 1 members, a cooperative of independent tool and fastener distributors. Hitachi received this top award over 97 other Sphere 1 preferred suppliers.
Sphere 1 CEO, Carol Shackelford noted, "Hitachi was recognized again as the Top Branded Preferred Supplier at our annual conference, held at the JW Marriott Orlando Grande Lakes. This is the fourth consecutive win for Hitachi.
"While the Hitachi brand is very strong within our group, as well as the overall marketplace, it's truly a result of the drive, energy and focus of an extremely active management team and sales force who continue to strive for excellence in all they do. We want to congratulate Hitachi and thank them for another great year together!"
Hitachi Power Tools Vice President of Sales & Marketing, Joe Leffler added, "Hitachi is the preferred pro brand of pneumatics for the residential and multi-family construction industry. We've achieved this through our customers' loyal support over the years and our dedicated employees that focus each day on providing the best power tools in the industry. This Sphere One award is an honor to receive and continues to verify our efforts to serve the hard working construction professionals."
The award was presented at Sphere 1's Annual Member Meeting during May 16-20, 2016 in Orlando, Fl.