Posted May 27, 2016
ROLAIR Compressors introduces redesigned website
New mobile-friendly site features blogs, social media, service center locator and more enhancements.
---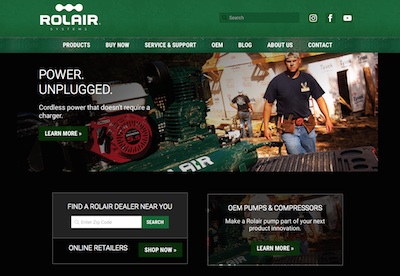 ROLAIR Compressors has redesigned their website at www.rolair.com.
The company's primary goal is to improve the user experience by providing a clean look with high resolution product images, improved page organization and up-to-date information.
A blog, increased social media use and branded content will all serve to educate and inform professional contractors in all stages of the sales funnel. Additionally, a service center locator was added to complement ROLAIR's authorized dealer locator.
The mobile-friendly website was built to simplify the process of adding new products and literature and removing outdated information. This will ensure that the user has an optimal experience on any device without having to sort through outdated information.
"The new and improved rolair.com will provide our end-users and distributors alike with a better experience overall," said Mike Kelley, Vice President of ROLAIR Compressors. "In addition to being mobile friendly, it will provide users with more accurate, up to date content."
Information about ROLAIR's OEM division has also been rolled into the site. This will serve to showcase the breadth of the company's product catalog and diversity of services.
ROLAIR is a third generation manufacturer of contractor-grade air compressors headquartered in Hustisford, WI. Since 1959, the company has provided professionals with a full line of contractor-tested reciprocating air compressors.