Posted July 7, 2016
Next Wave Automation moves to new facility
Award-winning CNC manufacturer nearly triples its size.
---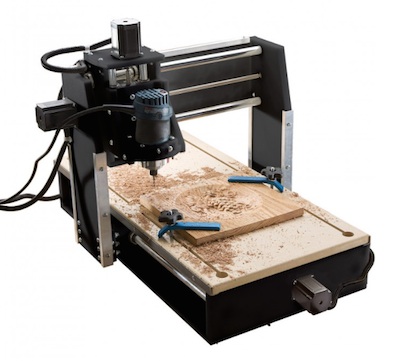 Next Wave Automation has just relocated from Holland, OH to a 20,000 square foot, manufacturing, assembly and operations facility in Perrysburg,Ohio.
A U.S. manufacturer of small-format CNC machines and smart technology accessories for woodworking, fabricating and the emerging maker industry, Next Wave Automation has won numerous industry awards for its products.
The 10-mile move from Holland to Perrysburg is part of a company strategy to further improve efficiency in its manufacturing and assembly processes while increasing capacity to meet growing demand for its products.
"We're really excited about this move because we simply outgrew our old facility," says Tim Owens, CEO and founder of Next Wave Automations, LLC. "There aren't many companies who manufacture woodworking machinery in the U.S. anymore – we're one of the few who do – and in order to keep up with demand and be ready for further expansion, we needed the much larger space here in Perrysburg."
Next Wave Automation manufactures the CNC Shark HD3, a commercial grade, small format woodworking CNC, the CNC Piranha FX, a 3D printer, carver and laser-engraver, a range of smart-technology woodworking accessories and a soon to be launched virtual object imaging machine. Next Wave Automation products are currently available directly, as well as through Rockler Woodworking and Hardware, Woodcraft and a number of other retailers and etailers.
Founded in 2006 by president and CEO Tim Owens and based in Perrysburg, OH, Next Wave Automation is a U.S. manufacturer of affordable CNC routing equipment and automated machinery for professional woodworkers and woodworking hobbyists of all levels. With core company values of customer service and technological scalability, Next Wave Automation is at the forefront of small shop automation and incorporates versatile compatibility between components and products whenever possible. For more information about Next Wave Automation, go to www.nextwaveautomation.com or call (419) 318-4822.