Posted October 5, 2016
Legrand releases LEED product guide
Guide is designed to help architects, designers and owners reach certification goals.
---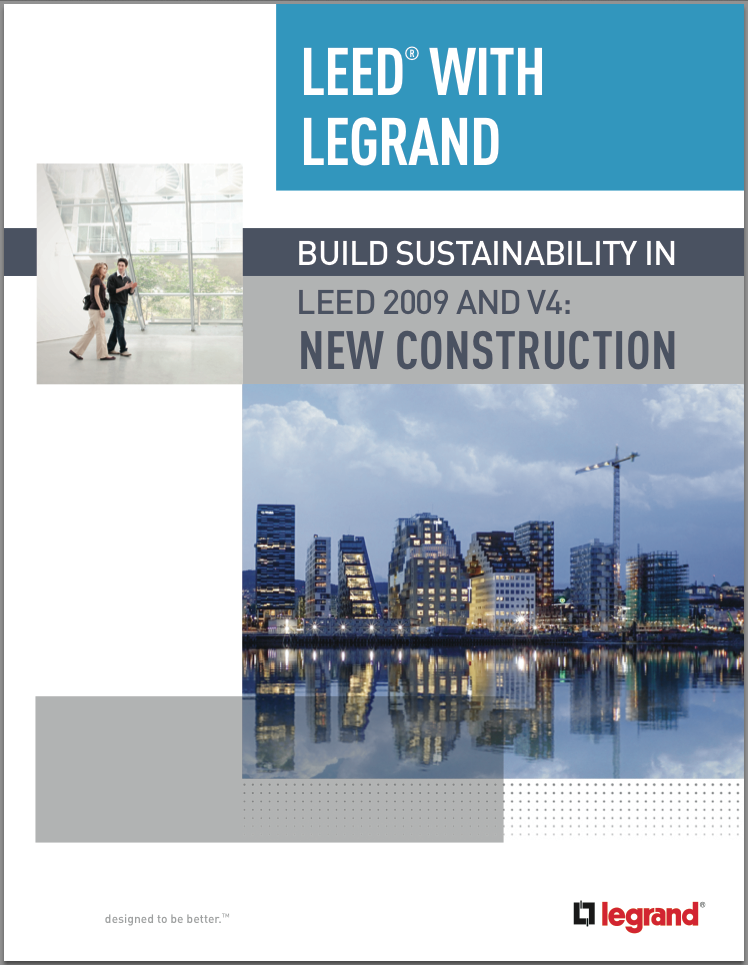 Legrand North America, a global specialist in electrical and digital building infrastructures, today announced the release of their LEED with Legrand Product Guide. The informative 16-page guide provides architects, specifying engineers, designers and building owners with an overview of Legrand products that contribute toward LEED certification.
Leadership in Energy and Environmental Design (LEED) is a rating system devised by the United States Green Building Council (USGBC) to evaluate the environmental performance of a building and encourage sustainable design. Legrand is a Platinum member of the USGBC, the purveyor of the LEED Rating System.
The system is credit-based, allowing projects to earn points for environmentally friendly actions taken during construction and use of a building. The LEED with Legrand Product Guide provides an overview of Legrand products that have the potential to contribute points toward LEED certification.
Sections within the guide address the Credit Categories of Sustainable Sites, Energy and Atmosphere, Materials and Resources, Indoor Environmental Quality, and Innovation in Design. Electrical and networking infrastructure products can play an important role towards earning certification, but are often overlooked.
Increasingly, building owners and homeowners seek transparency from manufacturers to understand the environmental impact of products. Legrand recognizes the necessity to truly understand how the manufacturing process, product design, material selection, and supplier relationships can work together to create more sustainable products.
"We build sustainability into our products and systems to enable high-performance buildings," said Susan Rochford, VP, Energy Efficiency, Sustainability and Public Policy, Legrand, North America. "LEED is the predominant building performance mechanism available on the market today. This guide is a resource for our customers to understand the importance of electrical products in sustainable buildings as well as how Legrand can help them meet their sustainability needs."
The LEED rating system awards points for a project's ability to meet specific criteria, such as energy reduction and use of materials with recycled content. The number of points earned determines the certification level of the project: Certified, Silver, Gold, or Platinum. Manufacturers play an important role in the ability of projects to achieve these points by developing and supplying products that contribute to the intent of the credits.
Proper design of a building's power, light, data and A/V infrastructure can significantly contribute to energy savings and occupant comfort and productivity. Successful implementations occur when these needs are addressed early in the design and construction process to ensure the space will meet the changing needs of the built environment and continue to meet its goals for years to come.
"As we have worked to anticipate and understand the forces reshaping the built environment, we have gained a foundation of information and experience in High Performance Buildings. We invite everyone to explore this knowledge base through our ongoing series of whitepapers and reports," said Rochford.
Additionally, Legrand is a U.S. Department of Energy Better Buildings, Better Plant Challenge Partner; an Ally member of the American Council for an Energy Efficient Economy, and an Associate member of the Alliance to Save Energy, a non-profit organization dedicated to promoting energy efficiency worldwide to achieve a healthier economy, a cleaner environment and energy security.
Click here to download the LEED with Legrand Product Guide.
Learn more at www.legrand.us