Posted December 19, 2016
ACPA names Tiefenthaler Chairperson of the Board
First woman to lead Concrete Pavement Association.
---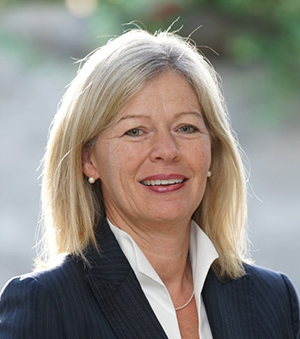 Lori Tiefenthaler, Senior Director of Marketing for Lehigh Hanson, Inc., has been appointed Chairperson of the American Concrete Pavement Association's Board of Directors. She is the first woman to serve as the top volunteer leader in the 54-year history of the Association.
Her appointment to Chairperson reflects Tiefenthaler's more than 30 years of experience and expertise in the cement and concrete materials industries. She brings a broad range of skills and expertise to her new role and her background includes extensive experience in sales, marketing, sustainability, and the development of promotional programs to increase concrete and cement usage.
Prior to joining Lehigh Hanson, she served as Executive Director for the Southeast Cement Association and held management positions with the Iowa Concrete Paving Association and her family's ready mixed concrete and sand and gravel operations in Iowa.
Tiefenthaler accepted the ACPA leadership role from 2016 Chairman Steve Jackson, President of Cedar Valley Corp., LLC. Following a time-honored gavel passing ceremony, she recognized Jackson as well as current and past leaders of the associations for their contributions.
"I am extremely honored to accept this gavel and the responsibility of leading this great association in 2017," said Tiefenthaler. "As I look back on the 53 chairmen that came before me, I personally knew or know 33 of them, and I am humbled to join their ranks."
Tiefenthaler also recognized industry allies, Portland Cement Association (PCA) and National Ready Mixed Concrete Association (NRMCA), along with longtime collaborative partners, the National Concrete Pavement Technology Center (CP Tech Center) at Iowa State University, and the International Grooving and Grinding Association (IGGA).
She also welcomed the Association's new partnership efforts with the Concrete Reinforcing Steel Institute (CRSI) and Precast/Prestressed Concrete Institute (PCI). Focusing on the Association, she commended ACPA-affiliated regional and state paving associations and ACPA staff for their contributions to the concrete technical advancement and advocacy for concrete pavements.
"In the coming year we will continue building alliances within the industry and work together to strengthen our influence" she said. "In addition, we must focus on attracting and retaining young professionals to the concrete pavement industry. Yesterday, we held the first meeting of our emerging leaders and they will play a key role in setting our industry Vision 2040."
In addition to leading the ACPA's Board of Directors, Tiefenthaler also serves on the Board of Directors for the Slag Cement Association, as well as on the paving and sustainability committees of the PCA and NRMCA. Tiefenthaler has also served on the Advisory Board of the CP Tech Center and the Advisory Task Groups for the Concrete Sustainability Hub at the Massachusetts Institute of Technology, Cambridge, Mass.
Tiefenthaler holds a Bachelor of Technology degree in Construction Management from the University of Northern Iowa, Cedar Falls, Iowa.
Learn more at www.acpa.org.