Posted February 1, 2017
Wildeck receives Most Valuable Supplier award
Commitment to business excellence earns award from MHEDA.
---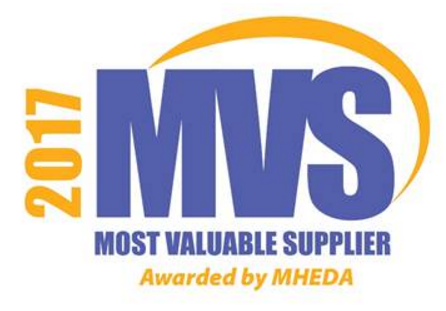 Material handling equipment and safety products manufacturer, Wildeck, Inc., has earned the prestigious MVS (Most Valuable Supplier) Award for 2017. The MVS Award is granted by the industry's trade association, MHEDA (Material Handling Equipment Distributors Association).
According to MHEDA, this newly initiated Award recognizes companies who have demonstrated an exemplary commitment to their dealer network, their employees and their community.
To qualify for the MVS Award, Wildeck was required to meet a series of criteria in a number of areas important to its distributor companies. In addition to confirming an on-going commitment to safety, MVS Award winners must also demonstrate an overall commitment to business excellence by documenting programs in the following areas:
Industry Advocacy
Distributor Advocacy
Business Networking
Continuing Education
Business Best Practices
"We are extremely pleased to receive MHEDA's Most Valuable Supplier Award," stated Wildeck president, Greg Larson. "The employee owners at Wildeck truly deserve this honor as they are dedicated to helping our customers' projects run smoothly every day.
"We are also grateful for the many accolades we have received from our dealers and end-users across the country. In fact, we have an entire wall in our customer showroom where we proudly display their letters."
"MHEDA members represent the best of our industry; and those who earn the MVS Award have documented that excellence and commitment to their dealers, community, employees and the material handling industry," said Scott Lee, MHEDA's 2017 Chairman of the Board and President of Schaumburg, IL based Conveyor Solutions, Inc. "MHEDA is very proud of our MVS Award winners."
The Material Handling Equipment Distributors Association (MHEDA) is the only national trade association dedicated solely to improving the proficiency of the independent material handling distributor. MHEDA represents nearly 650 companies in the material handling equipment business.
Located in suburban Chicago, the association provides services to companies seeking to improve their business through education, networking, benchmarking and best practices. For more information, visit www.mheda.org.
Wildeck, Inc. is a subsidiary of Holden Industries, a 100% Employee-Owned Company. Please contact Hue Schlegel, Director of Marketing at 262-549-4000, ext. 2049, hschlegel@wildeck.com for more information on the complete line of Wildeck and Ladder Industries products and services; or visit www.wildeck.com or www.ladderindustries.com, or e-mail info@wildeck.com.