Posted February 8, 2017
2016 AD member sales up 9 percent to record-breaking $34.4 billion
Building materials division distributor members grew 16 percent.
---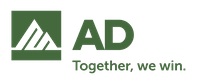 AD, the $34.4 billion contractor and industrial products wholesale buying / marketing group, reported sales for all AD members, across all seven Divisions and three countries grew by 9% in 2016. This growth includes ongoing members, new members and losses due to consolidation.
On a same store basis, AD Members grew 3%. By country, AD Member U.S. same store sales were up 2%; AD Canada was up 5% and AD Mexico grew 25%. By industry, Electrical was up 1%; PHCP (Plumbing, PVF & HVAC) was up 3%; Industrial was down 4%; Bearings & Power Transmission was flat, and Building Materials was up 16%.
Bill Weisberg, AD's Chairman and CEO comments on the results, "Despite headwinds in industrial and energy markets and price deflation within certain large product categories, Member purchases from AD Suppliers grew by 9% and Net Distributions to AD Members grew by 15%. We also had huge advancements in eCommerce, HR and Procurement Services. For instance, we created over 1 million enhanced, normalized and attributed SKUs and are playing a support role to help our Members refine their digital strategy and launch their webstores. Our role is to help our members compete and win, now and in the future."
For more information visit: www.adhq.com