Posted July 21, 2017
Hangzhou GreatStar acquires Arrow Fastener
Deal is expected to accelerate Arrow's new product development.
---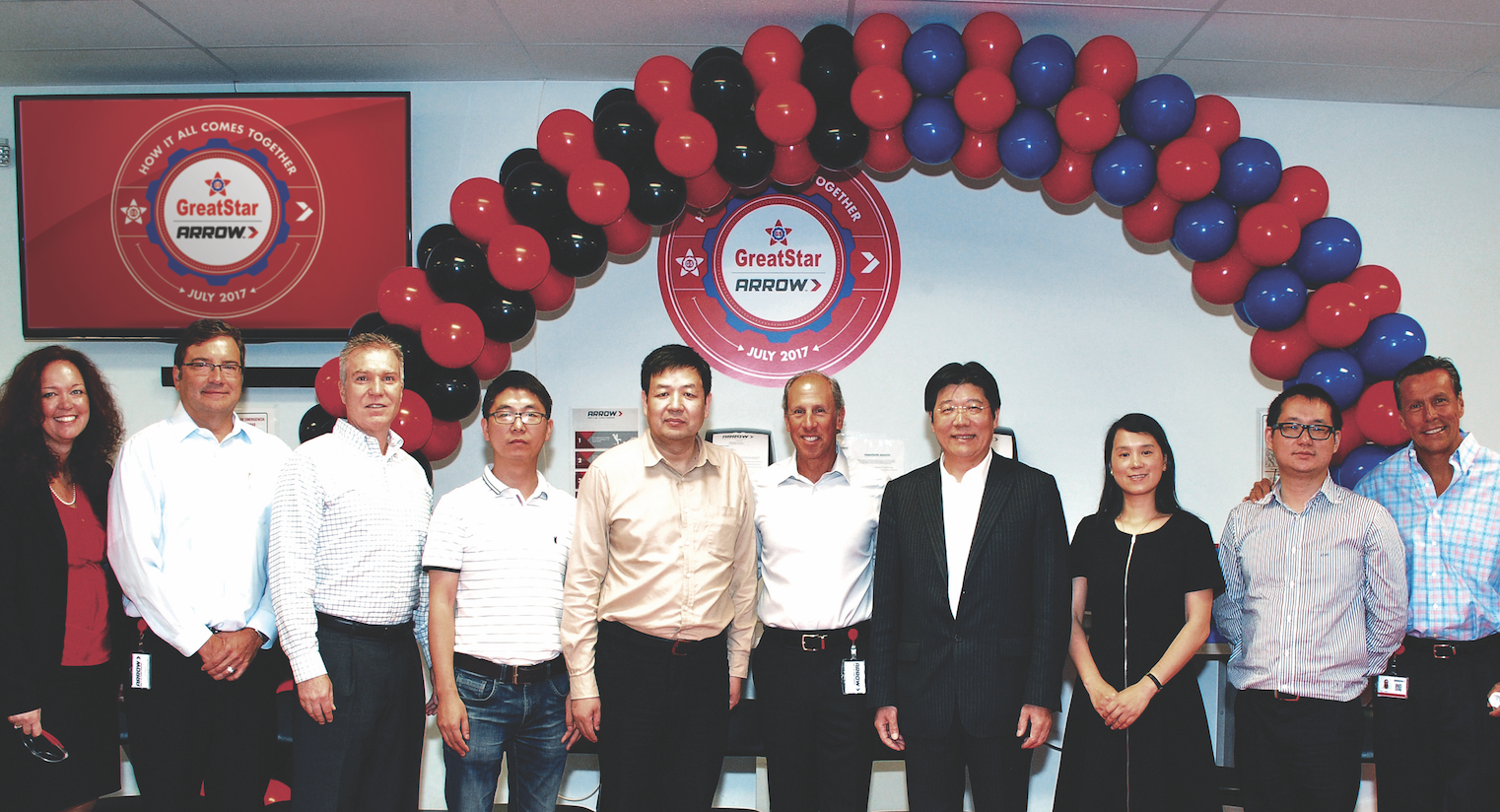 Arrow/Great Star's management team includes (L-R): Melissa Karlovitch– VP Human Resources - Arrow Fastener; Bill Sokol– VP Marketing - Arrow Fastener; Rob Weingartz– VP Finance and IT – Arrow Fastener; Evan Qi– Sales Manager; Jack Dai– Sales Director; Gary DuBoff– CEO Arrow Fastener; Champin Chou– President/ Chairman; Lily Chi– Executive Vice President; Peter Zhou– Security Consultant / Investment Manager; and Roberto Izaguirre– VP Sales.
​Hangzhou GreatStar Industrial Co., Ltd, a leading global developer, manufacturer and supplier of hand and power tools, announced today that it has completed the acquisition of Arrow Fastener Co., LLC ("Arrow").
"We are pleased to close on this strategic acquisition and strengthen our footprint in the well-structured hardware category," said GreatStar Chairman and CEO Champin Chou. "GreatStar's rapid innovation and investment capabilities will help accelerate Arrow's growth and broaden its new product development roadmap."
"We look forward to providing customers with an expanded inventory selection backed by our expertise in staple guns and manual and electric tools," said Arrow President Gary DuBoff. "My thanks to our team for their work to complete this acquisition and for their focus on leveraging this opportunity to grow our business and provide a smooth transition for new and existing customers."
GreatStar, based in Hangzhou, China, is one of the largest hand tool manufacturers in Asia, specializing in designing and manufacturing high quality products for DIY, professional and industrial markets globally. Arrow, based in Saddle Brook, NJ is the leading manufacturer of staple guns and heavy duty staples in North America.
Established in 1993, GreatStar is the leading manufacturer of hand tools in Asia serving DIY, professional, and industrial markets worldwide. GreatStar also manufactures a full range of specialty tools for drywall, masonry, painting, tiling, plumbing, and automotive applications as well as power tools, tool sets, and flashlights. GreatStar's culture of innovation, firm commitment to R&D and extensive customer insight ensure their leading brands and high-quality products meet the specific needs of the consumers and professionals they serve. For more information visit: www.greatstartools.com
Arrow Fastener Co., LLC is a leading manufacturer of manual and electric staple and nail guns, glue and rivet tools which are sold to consumers and commercial contractors, primarily through home centers, mass merchants and specialized retailers. Founded in 1929, Arrow Fastener was acquired by Masco Corporation (NYSE: MAS) in 1999. For more than five decades, the T50 staple gun has been the industry standard, as the world's best-selling staple gun. Today, Arrow Fastener is a trusted supplier of reliable, innovative and affordable products for the building trade professional and do-it-yourselfer. For more information, visit www.arrowfastener.com.