Posted March 20, 2018
Air Systems International releases 2018 Master Catalog
New catalog is available in print or PDF form.
---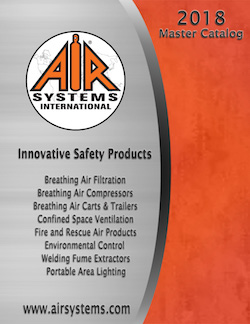 Air Systems International, Inc. introduces its new 2018 Master Catalog in print and digital forms.
The 2018 Catalog features Air Systems' most popular items, including the Breather Box Grade-D Air Filtration System, Saddle Vent Confined Space Ventilation Kits, AIR-KADDY SCBA Storage Racks, MULTI-PAK Breathing Air Cylinder Carts, Ergo-Air Carts, Air-Light and Air-Light II Portable Area Lighting Systems, and Fume-Air Portable Fume Extractors.
The Catalog also features ASI's newest product, the Breathing Air Transporter (BAT), a bottled air cart system.
Product categories include:
Grade-D Air Filtration – portable, panel mounted and custom Grade-D air filtration
Breathing Air Compressors – plant and portable Grade-D breathing air systems
High Pressure Breathing Air – fill compressors, fill assemblies, and containment fill stations
Air Cylinder Carts – small & large cylinder air carts, Breathing Air Transporter
Custom Breathing Air Systems – custom carts, trailers, and plant filtration systems
Fire & Rescue – air distribution for breathing, filling air cylinders, and rescue applications
Ventilation – complete line of blowers & fans and confined space ventilation kits
Portable Area Lighting – DC powered area lighting, including the award winning Air-Light II XP and Air-Light 8600 portable area lights
Environmental Control – fume extractors and HEPA vacuums
The new Catalog includes 11 pages of reference materials including:
Breathing Air Basics,
Sizing a Type-C/CE Airline Filtration System,
Blower & Fan Selection Guide,
Axial Fan vs. Centrifugal Blower,
Certified For Safety – Certifications,
Confined Space Ventilation Safety Tips,
Confined Space Purge Time Estimating Chart, and
Understanding Quick Connect Fittings.
"We've redesigned the look and feel of our catalog pages to focus more on the information a customer needs to make the best decision." says Stephen Durr, Marketing Manager.
To request a 2018 Master Catalog, please visit www.airsystems.com/index.php/catalog-request. A PDF version may be downloaded at www.airsystems.com.