Posted May 15, 2018
Flexovit named one of western New York's best companies
Abrasives manufacturer wins 2018 Award for General Excellence.
---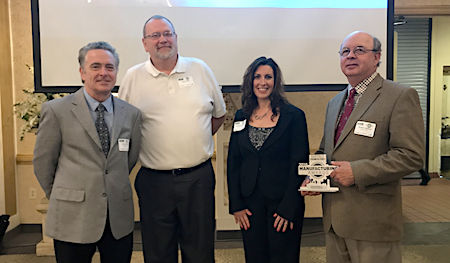 Left to Right: Flexovit Abrasives' Pierre Hawkins, Director of Sales & Marketing, Bob Riehle, Director of Manufacturing and Human Resources, Alex Brunelle, Director of Finance, Tom Calabrese, President & CEO
Flexovit USA, Inc. has been awarded the 2018 Award for General Excellence at the sixth annual Buffalo Business First Manufacturing Awards honoring "companies that are making a difference in Western New York through employment, innovation and community involvement."
"We are honored to be selected as a Manufacturer of Distinction by Western New York's Business First," says Flexovit CEO Mr. Tom Calabrese. "It is a tribute to all of the excellent employees within our company that have focused on continuous manufacturing improvements, world class technology and active contributions in our community."
Established in Angola, New York, in 1977, Flexovit USA is a manufacturer of high productivity abrasive products for portable power tools. Flexovit manufactures grinding wheels, cutting wheels, and abrasive flap discs at their 100,000 square foot ISO Quality Certified manufacturing facility. Flexovit USA manufactured products are supplied to professional welding, industrial, and construction trade users through authorized distributors in USA, Canada and Mexico.
The annual business awards are sponsored by Buffalo Business First, the Erie County Industrial Development Agency, Insyte Consulting, and KeyBank. The award was presented at an awards breakfast on May 15, 2018.
Learn more at www.flexovitabrasives.com