Posted July 4, 2018
CertainTeed to acquire Hunter Douglas' North American ceilings business
Saint Gobain subsidiary to buy major architectural products manufacturer.
---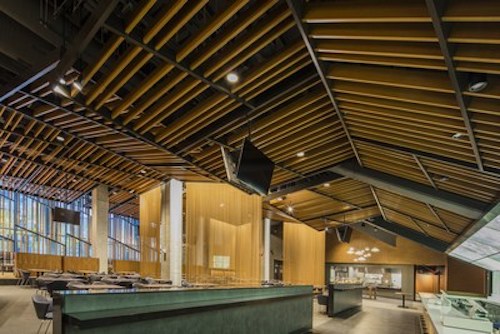 CertainTeed Corporation today announced that it has entered into an agreement to purchase Hunter Douglas' North American ceilings business.
Hunter Douglas is a world leader in window coverings, and is also a major manufacturer of architectural products. Its North American ceilings business manufactures architectural ceilings and soffit systems with operations in Norcross, Georgia and Denver, Colorado, and has 100 employees.
Hunter Douglas, a pioneer in aluminum casting, introduced linear metal ceilings in 1962 and has since evolved into a notable innovator in the ceilings industry. It offers a complete range of aluminum, steel, felt and fiberglass ceiling systems for the full spectrum of commercial projects.
"The acquisition of Hunter Douglas' North American ceilings business demonstrates our continued commitment to invest in the growth of our ceilings business," said Mark Rayfield, President and CEO of CertainTeed Corporation. "Over the past 60 years, Hunter Douglas has earned the trust of its customers and is well respected in the ceiling industry. We have a high level of confidence in the Hunter Douglas team and want to preserve its innovative, entrepreneurial culture and close customer relationships."
"The combined companies will create a leader in specialty ceilings benefiting our employees and customers alike," said Ron Kass, President & CEO of Hunter Douglas, Inc., the North American operations of Hunter Douglas NV. "As part of the divestment, Hunter Douglas will develop collaborative programs with CertainTeed and Saint-Gobain to market our commercial window-covering products."
The acquisition will significantly expand the CertainTeed product portfolio, which includes all-purpose and high-performance acoustic ceiling panels, clouds and baffles, specialty gypsum ceilings, suspension systems and custom-engineered acoustic solutions. The pending transaction is subject to customary closing conditions and is expected to close in July 2018.
"This acquisition will increase CertainTeed's presence in the high-growth architectural specialties ceilings market and establish CertainTeed as one of the industry's most comprehensive ceilings manufacturers," said Carmen Bodden, Vice President and General Manager of CertainTeed Ceilings. "This move will make our customers' jobs even easier by increasing the range of solutions they can purchase from a single source, while also strengthening our innovation capabilities and enabling cross-selling opportunities for the entire portfolio."
Hunter Douglas is a world leader in window coverings and a major manufacturer of architectural products. The Hunter Douglas Group is comprised of 130 companies with 50 manufacturing and 80 assembly operations in more than 100 countries. Hunter Douglas employs about 22,750 people and had sales in 2017 of USD 3.2 billion.
Through the responsible development of innovative and sustainable building products, CertainTeed, headquartered in Malvern, Pennsylvania, has helped shape the building products industry for more than 110 years. Founded in 1904 as General Roofing Manufacturing Company, the firm's slogan "Quality Made Certain, Satisfaction Guaranteed," quickly inspired the name CertainTeed. Today, CertainTeed is a leading North American brand of exterior and interior building products including roofing, siding, fence, decking, railing, trim, insulation, drywall and ceilings.
A subsidiary of Saint-Gobain, one of the world's largest and oldest building products companies, CertainTeed and its affiliates have more than 5,700 employees and more than 60 manufacturing facilities throughout the United States and Canada. The group had total sales of approximately $3.7 billion in 2017. www.certainteed.com