Posted July 18, 2018
Acme Tools celebrates seven decades of growth
Family-owned company pioneered online sales and remains an industry leader today.
---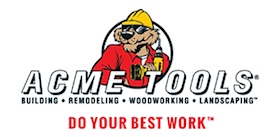 Acme Tools is marking the start of its seventh decade in business and its evolution from an electric motor repair company to a omnichannel premier retailer of tools and equipment.
Acme Tools is the legacy of North Dakota Entrepreneur Hall of Fame member, George Kuhlman, who founded Acme Electric in Grand Forks in 1948. The second and third generation of the Kuhlman family continue to lead the company making it the most experienced family owned business in the tool and equipment industry.
"We celebrate our 70th anniversary by saluting and thanking our customers, vendors and our outstanding employees," said Acme Tools President Daniel Kuhlman. "As a three- generation family owned and operated company, we have been fortunate to have loyal customers, vendors and employees."
Through the decades the company's business evolved for its customers as did its identity, first as Tool Crib of the North in 1970 and in 2005 rebranding as Acme Tools.
Retail expansion started in 1976 and today Acme Tools has ten retail stores in North Dakota, Minnesota and Iowa. The brand became known nationally due to its successful catalog and mail order business that preceded the launch of the company's first e-commerce site in 1999.
After being one of the first and the most successful tool and equipment company to start an internet business when it launched ToolCriboftheNorth.com and selling it the same year to Amazon.com, Acme Tools relaunched as AcmeTools.com in 2010 growing to offer more than 50,000 products online and today is the largest B2B e-retailer in North Dakota as ranked by Internet Retailer. Acme Tools built a new Distribution Center in Grand Forks in 2014 to support its fast growing e-commerce business.
"Our success and growth over seventy years is a function of the importance we place on focusing on the customer and providing exceptional customer service," says Steve Kuhlman, vice president of corporate operations at Acme Tools. " That was my grandfather's guiding business principal when he founded Acme Electric and it's even more relevant today in our stores and our digital platform."
Acme Tools has more than 70 years of industry experience and today is a omnichannel premier retailer of tools and equipment with stores in Grand Forks, Bismarck, Fargo, Minot and Williston, North Dakota, Bemidji, Duluth and Plymouth, Minnesota, and Cedar Rapids and Des Moines, Iowa, and a leading authorized online retailer for every major tool and equipment brand at AcmeTools.com.