Posted August 8, 2018
DPA names Distributor and Supplier of the Year
Brighton Best International is also honored with DPA Excellence Award.
---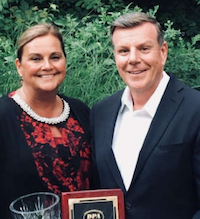 Tools Unlimited, Inc. of Stoughton, Massachusetts, represented by Kerry (L) and Stephen (R) Pires, took the DPA 2017 distributor of the year award.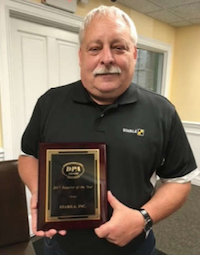 Darrell Hammond accepted the 2017 DPA Supplier of the Year award on behalf of Stabila, Inc. of South Elgin, Ilinois.
The DPA Buying Group is pleased to announce its 2017 Industrial Distributor and Supplier of the Year recipients. Congratulations go to DPA Industrial Distributor of the Year, Tools Unlimited, Inc. of Stoughton,Massachusetts and DPA Industrial Supplier of the Year, Stabila, Inc. of South Elgin, Ilinois.
Also awarded at the show was DPA's Industrial Excellence Award. This honor is presented to a person or company that demonstrates extraordinary support of DPA and overall industry excellence.
This year's recipient was Brighton Best International of Long Beach, California. Brighton Best has experienced considerable sales growth with DPA members and also recently acquired IRONCLAD Performance Wear.
"Brighton Best is a valuable DPA partner and very deserving of this honor,"said Zachary T. Haines, DPA CEO.
The DPA Buying Group is a North American buying and networking organization comprised of over 875 distributors and 230 preferred suppliers in the Industrial, Janitorial, Safety, Public Safety, Packaging and Restoration industries.
For more information about DPA, please visit www.DPAIndustrial.com or call (800) 652-7826.