Posted October 2, 2018
Aeroseal and Owens Corning partner to offer a new building envelope solution
Alliance touts "breakthrough" thermal and air sealing envelope solution for residential builders.
---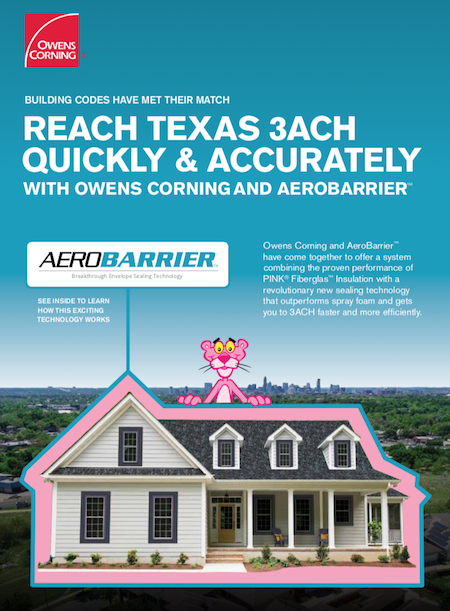 Aeroseal, LLC has entered into a joint marketing agreement with Owens Corning Insulating Systems specifically focused on delivering builders a high performance, affordable and customizable building envelope solution.
The co-branded alliance combines the proven performance of PINK Fiberglas Insulation with AeroBarrier, a revolutionary building envelope air sealing technology, to create a tight building envelope that simplifies the build process and makes it easier to meet increasingly strict energy codes.
"Recognized by the International Builders' Show as Best in Show and Most Innovative Product, AeroBarrier is a game-changing aerosol envelope sealing system which automatically monitors ACH performance during the sealing process and instantly provides certified results," said Amit Gupta, chief executive officer, Aeroseal, LLC. "Combined with the trusted PINK Fiberglas Insulation, building professionals are extremely receptive to a solution of a safe, non-toxic waterborne mist that can seal to any level of performance, and eliminates the uncertainty of the manual process of applying different caulks, tapes, membranes, and gaskets, and/or applying up to 100 gallons or more of regulated chemicals the form of spray foam."

Together, the AeroBarrier technology and the Owens Corning insulation portfolio deliver the highest guaranteed performance and the most cost-effective air and thermal solution that will measure and seal building envelope to a precise level of performance. The AeroBarrier technology, developed by University of California, Davis creates a tight building envelope that maximizes the performance of Owens Corning PINK Fiberglas Insulation.
"This is the only system offering builders guaranteed thermal performance for the life of the home and dialed-in performance to meet specific builder targets backed by guaranteed air changes per hour (ACH)," said Carmelo Carrubba, vice president of insulation strategic marketing, Owens Corning. "Combining the air sealing and insulating expertise from two trusted brands enables builders to achieve desired performance targets using a smarter, safer and faster building envelope solution."
The two-step installation takes less than four hours, beginning with PINK Fiberglas or Blown-in Insulation to local code requirements in conjunction with the AeroBarrier self- guided solution minimizing interruptions to the job site. AeroBarrier can be applied at the rough-in stage or after drywall is completed and before finishing to ensure all pipe and electrical penetrations are sealed as the aerosol particles automatically seek out and find air gaps and holes in the pressurized envelope.
For access to additional product resources, visit www.aerobarrier.net.
Click here to download the AeroBarrier brochure.