Posted November 16, 2018
Peter Chatel named new President for Hultafors Group North America
Chatel joins Hultafors from Senco Brands.
---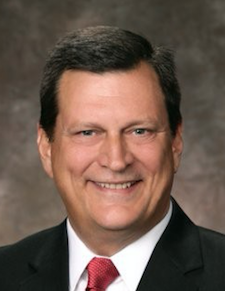 Peter J Chatel has been named Chief Executive Officer of Johnson Level/President of Hultafors Group North America. Peter will start in this role on November 26, 2018. Peter has been tapped to lead the Johnson Level business after decades of family leadership. Hultafors Group AB successfully acquired Johnson Level & Tool on April 30, 2018.
"Peter Chatel has a well‐respected track record as an executive who has built high performance teams, delivered sustainable growth, and created long term value for shareholders," said Ole Kristian Jødahl – Chief Executive Officer, Hultafors Group AB.
"His breadth and depth in both commercial leadership and operational excellence make him the perfect fit to lead our North American Hultafors business. We are thrilled to have Peter onboard and the entire team looks forward to working with him to execute our exciting growth plans."
Prior to joining Johnson Level/Hultafors Group NA, Peter Chatel was a member of the senior executive team who led the turnaround of Senco Brands (global manufacturer and marketer of fastening systems) resulting in the successful transition of the business from private equity to Kyocera.
Prior to this, Peter held executive leadership positions at Walter Meier Holdings, and Pentair Tool Group (General Manager for Porter Cable Power Tools, as well as for Delta Machinery). He spent the first 13 years of his career at Black & Decker in commercial and general management roles, including assignments in both Canada and New Zealand.
"I am very excited to be joining the Johnson Level / Hultafors Group teams. Johnson is an impressive business with a great history of contractor‐grade products, deep customer relationships, and a strong brand that is meaningful to the professional end user. With Hultafors Group's new ownership, the potential for significant growth in U.S. and Canadian markets is very promising," said Peter Chatel.

For over 70 years, Johnson Level has been supplying innovative solutions across a broad spectrum of customers in the Layout and Measuring product categories. Today, Johnson is the only U.S. based supplier offering a full spectrum of levels, lasers and layout tools and has built a reputation for offering Category Leadership, Product Authority and Award‐Winning Customer Service. Lean more at www.johnsonlevel.com.

Hultafors Group provides a portfolio of leading brands that keep professional users at the forefront in terms of functionality, safety and overall productivity. Excelling in brand‐driven product categories within the industry and construction equipment sectors, they offer customers and users a best‐in‐class experience. You may learn more about Hultafors Group by visiting their web site at www.hultaforsgroup.com.
Hultafors Group brands include Snickers Workwear, Hultafors Tools, Wibe Ladders, Solid Gear, Dunderdon, Toe Guard and Hellberg Safety.