Posted November 27, 2018
Big Gator Tools wins innovation award
Metric V-DrillGuide earns innovation nod in annual awards program.
---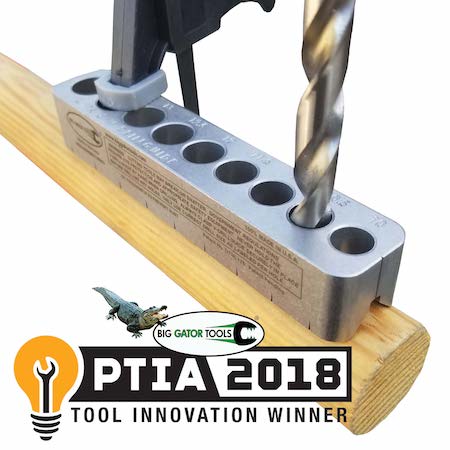 Judging for the 2018 Pro Tool Innovation Awards completed this week and Big Gator Tools received an award for the Metric V-DrillGuide (10-14mm). A panel of judges made up of tool and media professionals from across the United States and Canada weighed in on entries from top global manufacturers. Here's what the judges had to say about Big Gator Tools – Metric V-DrillGuide (10-14mm):
Big Gator Tools takes their Pro Tool Innovation Award-winning design to another level with an expansion into metric sizes. The guide plus a clamp or two set up perfect holes without a drill press, even on corners and round workpieces. They back their build quality with a lifetime warranty and it's a Made in the USA product. At $30, it's a lot cheaper than a drill press and a heck of a lot more portable.
Hundreds of power tools, hand tools, fasteners, and accessories were judged, and winners were decided based on industry innovation. Winners demonstrated achievement in any combination of the following: innovative features, advanced power delivery, groundbreaking ergonomics, technological advancements, and value. The Pro Tool Innovation Awards recognize best-in-class products that are truly ahead of their time.
This year, over 60 different tool manufacturers submitted nearly 300 tool entries in dozens of categories for a shot to win a 2018 Pro Tool Innovation Award.
For further information about Big Gator Tools – Metric V-DrillGuide (10-14mm), visit www.biggatortools.com.