Posted November 27, 2018
Weiler Abrasives continues support for Workshops for Warriors
New video and counter display raise awareness and provide additional fundraising opportunities.
---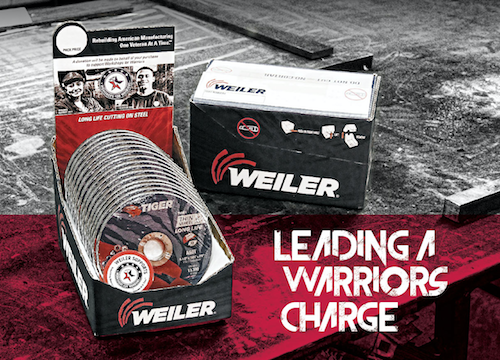 Weiler Abrasives, a leading provider of abrasives, power brushes and maintenance products for surface conditioning, has announced additions to its national fundraising campaign, "Leading a Warriors Charge", launched in June in partnership with Workshops for Warriors.
The company has introduced the Tiger Cutting Wheel counter display at select distributors. The display features 20 5-pack bundles of 4-1/2" X .045" Tiger cutting wheels. Weiler Abrasives will donate 5 percent of the purchase value of every display to the Workshop for Warriors nonprofit school to support the training and certification of veterans, wounded warriors and transitioning service members for careers in advanced manufacturing.
As with other components of the campaign, which included an initial $25,000 donation, fundraising from the displays will support training programs and the school's long-term growth — with the goal of "Rebuilding American Manufacturing, One Veteran at a Time™."
In addition, Weiler Abrasives and Workshop for Warriors partnered to create a video to raise awareness about the training provided by the school and to share how the campaign impacts both veterans and Weiler employees. View the video at: https://bit.ly/2FmH3Fy.
"We're excited to share more about how our partnership with Workshops for Warriors is benefiting our industry and the many veterans returning to the civilian workforce each year in this country," says Nate Schmid, director of marketing — Americas, Weiler Abrasives Group. "We couldn't be prouder to support such a great organization and hope that other U.S. manufacturers will follow."
As it continues its year-long fundraising campaign, Weiler Abrasives remains committed to providing in-kind support of abrasive and safety products to assist in student training each semester.
To learn more about the Leading a Warriors Charge campaign, visit Weilercorp.com/WFW.