Posted February 13, 2019
Simpson Strong-Tie releases 2019 wood connectors catalog
Catalog aligns with 2015 and 2018 I-Code changes and showcases robust product lines and innovations.
---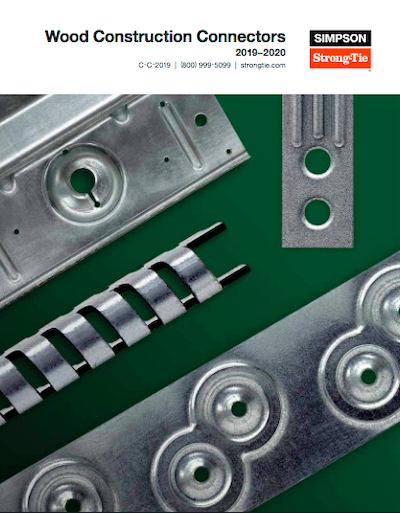 The Simpson Strong-Tie 2019–2020 Wood Construction Connectors catalog, a comprehensive guide to the company's most recent innovations and product line expansions for wood construction applications, is now available in print and online.
The new catalog is the first in the industry with updated connector allowable load tables to meet the new ASTM test standards required by the 2015 and 2018 International Building Code (IBC). It is designed to assist engineers, architects, designers and contractors in selecting the right products for improved performance, efficiency and productivity. And in an ongoing effort to make it easier for pro suppliers to manage inventories, we've streamlined and simplified our product line offerings.
The new catalog features more than 14 new products and product line extensions, including new additions to the Outdoor Accents collection of decorative hardware, and the MPBZ moment post base and BT brick tie product lines.
To simplify product specification, Simpson Strong-Tie has eliminated redundancies to make it easier for customers to choose the right product, and has moved a portion of specialty items to the website in order to further streamline the catalog and provide for an enhanced user experience both in print and online.
"Every two years, we do a comprehensive review of and complete update to our Wood Construction Connectors catalog to make sure our customers have the latest information on our newest innovations as well as any changes related to building codes or new testing," says Simpson Strong-Tie vice president of Connectors and Lateral Systems, Sam Hensen. "We know — and appreciate — that this catalog is a one-stop resource guide for our contractor and specifier customers when they are selecting the best hardware for their needs."
Important Load Table Changes
Both the 2015 and 2018 IBC and the IRC require manufacturers to test joist hangers and similar products to a new standard, ASTM D7147. Simpson Strong-Tie has worked diligently to re-evaluate all of its related wood connectors to meet the new test standard. The new 2019 Connectors catalog reflects this exhaustive work in the updated tables for allowable loads of connectors used for wood-to-wood, wood-to-concrete, wood-to-masonry and wood-to-steel connections.
Allowable loads that changed more than 5% — up or down — are indicated in red in the product load tables. All Simpson Strong-Tie connector IBC code reports have now been updated to the 2015 IBC, and 85% of those connector reports have been updated to the 2018 IBC.
Construction professionals engaged in designing current and future projects in states adhering to the 2015 or 2018 I-Codes should check existing product load tables against our updated load values. While these load changes do not affect completed and permitted projects, Simpson Strong-Tie recommends using these new values going forward. To view the ICC code adoption map, click here. (Note: You'll need to click on each state to view the code adoption details.) Check with your local building officials to ensure acceptance.
Current projects in jurisdictions using 2012 or older building codes can reference the load values in our 2017–18 Wood Construction Connectors catalog and use the current versions of our Connector Selector software and Joist Hanger Selector web app. (Note: This software will be updated with the new allowable loads by the end of March 2019.)
For more background about how we re-evaluated our connectors to meet the new standards, see our recent Structural Engineering Blog post.
For more information or to order your copy of the Simpson Strong-Tie Wood Construction Connectors catalog, visit strongtie.com/connectorscatalog.