Posted February 20, 2019
Next Wave Automation launches new website
Dealer locator, videos and project information among new and improved elements.
---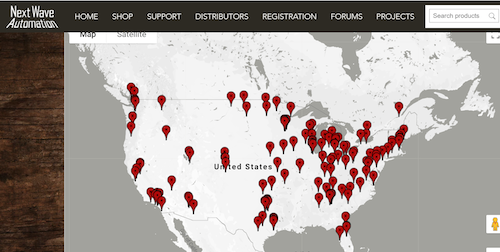 Next Wave Automation has just launched its new website, which includes a vastly improved visitor experience, including a Dealer Locator, and a wide array of project plans and information. The new site is also rich in visual media, with many added videos with topics ranging from how-to and set-up to projects.
Since the introduction of the CNC Shark in 2007, Next Wave Automation has introduced an entire line of Desktop and Small Shop CNC machines and accessories and has won several industry awards for its innovative products. All Next Wave products are made in the USA.
"We wanted to provide more and better information to our customers and small format CNC users as a whole," says Tim Owens, founder and CEO. "Since the possibilities of making and creating with our CNCs and accessories are virtually limitless, we now have a site that better reflects that. It's also much easier to navigate along with being inspirational and filled with information."
Highlighted features of the new Next Wave Automation website:
CNC Projects – see complete plans and videos for a wide array of projects
Videos – from the homepage throughout the website, videos and links to videos dispersed among site content
Map-based, dealer locator as well as an improved online shop
Next Wave Automation products are distributed across the United States by an ever-expanding dealer network. Future website improvements will include a dealer portal.
Founded in 2007 by president and CEO Tim Owens and based in Perrysburg, OH, Next Wave Automation is a U.S. manufacturer of affordable CNC routing equipment and automated machinery for professional woodworkers and woodworking hobbyists of all levels. With core company values of customer service and technological scalability, Next Wave Automation is at the forefront of small shop automation and incorporates versatile compatibility between components and products whenever possible.
For more information about Next Wave Automation, go to www.nextwaveautomation.com or call 419-318-4822.