Posted March 20, 2019
Superior Aluminum Products issues new catalog
Literature details Superior's full line of multi-housing products.
---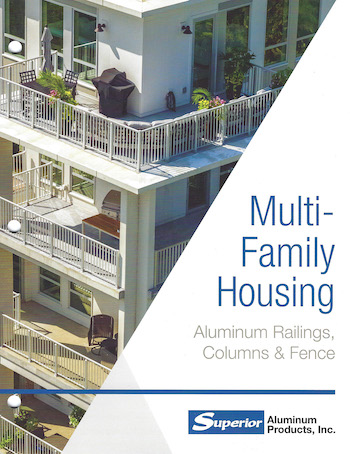 Superior Aluminum Products has published a new catalog that details their full line of aluminum railings, columns, and fence for multi-family housing projects. This full-color 12-page catalog details the company's durable, strong, sustainable, code-compliant railing systems and their numerous customization options.
Products featured include: heavy duty square picket railing, architectural railing, cable railing, pipe handrail, pipe picket railing, picket fence, and aluminum columns. Superior Aluminum products seamlessly fit into classic renovations and modern new construction for multi-family housing projects of all sizes.
All Superior railings are factory assembled to exact customer specifications, then shipped pre-assembled in maximum sizing that transport allows. This makes on-site installation simple and easy, with no welding or cutting required.
Headquartered in Russia, Ohio, Superior Aluminum Products is an industry leader in the manufacturing of aluminum railings, fencing, and columns. This third-generation family-owned and operated company has been making aluminum products since 1956.
Their decorative and functional products are custom built to customer specifications, with CAD drawings created for layout, design and manufacturing. This allows them to identify and prepare for any slight difference or oddity in an area, and greatly simplifies installation. All products are designed to meet local, state and federal building codes, including the Americans with Disabilities Act.
Their maintenance-free products are ideal for commercial, municipal and industrial facilities, as well as single-family and multi-family residential locations. Their Russia, OH headquarters facility includes over 100,000 square feet of manufacturing floorspace, as well as engineering, design, research & development, customer support and administrative offices.
For additional information contact Superior Aluminum Products Co., 555 East Main Street, P.O. Box 430, Russia, OH 45363, or visit www.SuperiorAluminum.com, e-mail info@SuperiorAluminum.com, or call (937) 526-4065.