Posted August 1, 2019
Hoffmann Group USA issues 2019/2020 catalog
Massive catalog now includes the complete GARANT GridLine equipment line.
---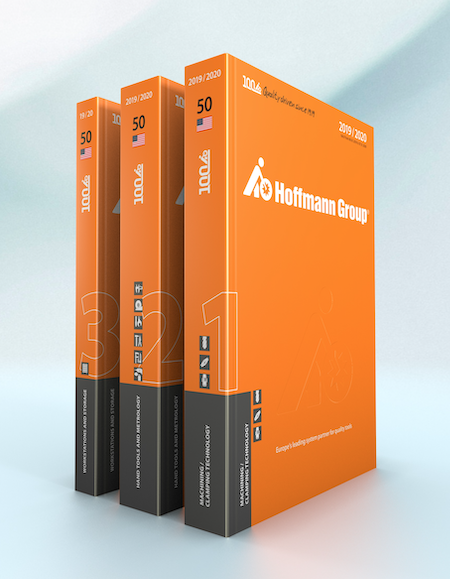 It's that time again: Hoffmann Group USA is presenting its new catalogue for 2019/2020, bringing roughly 9,000 new products onto the market.
The latest edition of this tried-and-tested reference work for quality tools, workstations and storage solutions and personal protective equipment (PPE) contains more than 85,000 items – offering customers an extremely comprehensive range. The catalog is available starting today, in 18 languages. All the items are also be available at the Hoffmann Group USA eShop.
A considerable portion of Hoffmann Group USA's new products can be found in the workstations and storage category (37%), which for the first time contains the complete GARANT GridLine equipment range. With GARANT GridLine, all workbenches, workshop cabinets, roller cabinets, and accessories have been designed based on a uniform grid scale of 25 mm. This modular principle means that everything fits together perfectly, opening up numerous combination possibilities.
There has also been an important new addition to the goods issuing systems in the catalogue: the GARANT Tool24 Locker, which features large compartments for controlled single-item withdrawal of articles such as power tools, loan devices and PPE items.
There have been a number of changes to the cutting tools selection as well, accounting for around 38 percent of the new products. The highlights include the GARANT Xtric centring vice, the GARANT Master Alu milling cutter range, and the GARANT Master Tap INOX specialist for thread machining stainless steels.
When it comes to hand tools and measuring tools, there are also attractive new products such as the new version of the GARANT MM1 measuring microscope – with up to ten times larger image screen, as well as the "GARANT digital caliper IP67 with data output", which recently won a Red Dot Design Award. What's more, Hoffmann Group USA has expanded its portfolio of hand tools with its very first GARANT soft-faced hammer, and has optimised its personal protective equipment range with 942 new catalogue items.
About Hoffmann Group USA
Based in Knoxville, Tennessee, Hoffmann Group USA is a wholly-o­­wned subsidiary of The Hoffmann Group, Europe's leading system partner for quality tools. The company offers 85,000 quality tools from 500 of the world's leading manufacturers including GARANT, Hoffmann's own premium brand. Hoffmann product lines include hand tools, cutting tools, workstations, and storage options.
Hoffmann Group, with an international corporate headquarters in Munich, Germany, combines trading competence with leadership in both manufacturing and service. This combination guarantees reliability in supply, quality, and productivity in the tooling sector to more than 135,000 customers. The company, with its worldwide partners and over 2,500 employees, serves major companies as well as medium-sized and small companies in more than 50 countries.