Posted October 3, 2019
PaintLine to sponsor "Belles and Beau Tour"
One-day, hands-on furniture painting conferences are set for Edison, NJ and Atlanta, GA.
---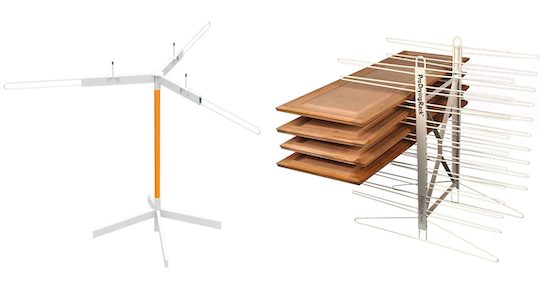 PaintLine has been named as a sponsor of the Belles and Beau Tour's "One Day, Hands-On Furniture Painting" conferences in Edison, NJ on November 3rd and Atlanta, GA on January 18th. PaintLine's PDRTT drying rack and SPTY Spray Twirly paint stand, will be used at the conferences and attendees will receive special product discounts and promotional items not available to the general public.
"We're excited that the Belles and Beau Tour will be using two of our products and including some special, PaintLine swag items and discounts in their gift bags," says Kyle Robinson, PaintLine president. "Our products are designed to help save time and space for anyone who paints or refinishes cabinets, furniture or other parts."
SPTY Spray Twirly Spray Stand: Spray all angles of any furniture part, cabinet door or other pieces without having to walk around or re-position. Get 360-degree rotation for a precision finish. This versatile stand features adjustable paint pyramids and retractable arms for handling a range of sizes, to
About Belles and Beau Tour
Belles and Beau Tour, a Dixie Belle Paint Partner, will be holding two, "One Day, Hands-On Furniture Painting" conferences: November 3, 2019 in Edison, NJ, and January 18, 2020, in Atlanta, GA. Each conference will be comprised of six, fully interactive classes and will feature professional instructors with lots of one-on-one, hands-on instruction. All materials will be provided. Founders, Heather Marzigliano and Pam Haskins saw the opportunity to bring to the general public the same quality and level of learning that had only previously been available to retailers of the various paint brands on the market.
About PaintLine
Since the 1990s, PaintLine products have provided innovative, practical and economical drying rack and spray stand solutions for painters, cabinet makers, millwork shops, residential remodelers, renovators and DIYers. PaintLine is a Merchandising Systems Inc. brand, a leader in metal fabrication for material handling and retail store fixturing for over 50 years. PaintLine is headquartered in Menlo Park, CA. For more information, go to www.thePaintLine.com or call 1-510-477-9100.