Posted October 3, 2019
Simpson Strong-Tie supports Habitat's annual Carter Work Project
36th annual project will take place in Nashville, TN, October 6 to 11.
---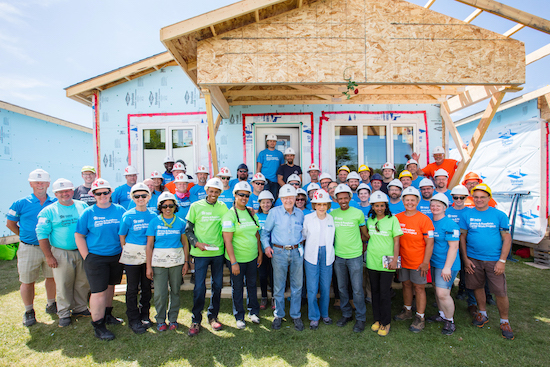 Simpson Strong-Tie, the leader in engineered structural connectors and building solutions, renewed its sponsorship of Habitat for Humanity's yearly Jimmy & Rosalynn Carter Work Project. The Carter Work Project is a week-long build alongside former President Jimmy Carter and former First Lady Rosalynn Carter. The 36th annual project will take place in Nashville, TN, from October 6 through October 11, 2019.
Along with monetary and product donations, Simpson Strong-Tie will send 17 volunteers from its Gallatin, TN, and Columbus, OH, facilities to help 21 families build their new Habitat homes in cooperation with hundreds of other volunteers.
Since 1984, President and Mrs. Carter have been champions and strong voices for affordable, decent housing for all, donating their time and leadership each year to build and improve homes through Habitat for Humanity's Jimmy & Rosalynn Carter Work Project. The Carters have worked alongside 103,000 volunteers in 14 countries to build, renovate and repair over 4,000 homes.
"It's a special honor for us to support President Jimmy Carter and his wife Rosalynn on this project, and I know our volunteers are very excited and proud to participate," said Simpson Strong-Tie COO Ricardo Arevalo. "The work the Carters have done around the world to help countless families have safe, strong housing is an inspiration, and we hope our contributions can help continue those efforts."
For more than 60 years, Simpson Strong-Tie has dedicated itself to creating structural solutions and technology to help people build safer, stronger homes and buildings. Considered an industry leader in structural systems research, testing and innovation, Simpson Strong-Tie works closely with construction professionals to provide code-listed, field-tested products and value-engineered solutions.
Simpson engineered structural products and solutions are recognized for helping structures resist high winds, hurricanes and seismic forces. They include structural connectors, fasteners, fastening systems, lateral-force-resisting systems, anchors, software solutions and product solutions for repairing, protecting and strengthening concrete.
From product development and testing to training and engineering and field support, Simpson Strong-Tie is committed to helping customers succeed. For more information, visit strongtie.com