Posted January 21, 2020
Jescraft opens new Connecticut manufacturing facility
New plant in Oxford, CT signals strong growth.
---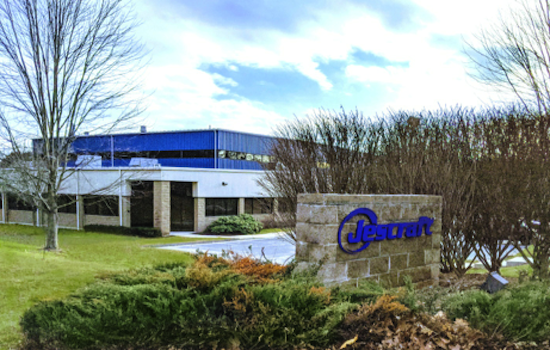 Jesco Iron Craft, Inc. d/b/a Jescraft announced on Friday that it will open a new manufacturing facility in Oxford, Connecticut with anticipated opening date of March 2020.
This newest expansion comes on the heels of strong growth for the company and is one of several new investments Jescraft has made in recent months. New equipment expenditures, a revamped online presence, and the implementation of new technologies at the corporate level signal strong business growth for the material handling equipment manufacturer.
"We're very pleased to announce the opening of a new location in Oxford, Connecticut," says Mike Brown, President of Jescraft. "This is not only an opportunity to bring more jobs to the area, but it also allows us to further expand our manufacturing capabilities and warehousing space to meet the growing needs of our business."
The new facility is comprised of 28,000 square feet of plant and office space, with loading dock capabilities, oversized high-bay doors, 30-foot clear height warehouse, expanded coating system capabilities, along with several acres for future expansion.
The facility is located at 116 Willenbrock Road in the Willenbrock Industrial Park, an established office and industrial park, which is approximately one mile from the Waterbury/Oxford Airport. It is easily accessible for commercial truck transportation, centrally located between New Haven, Danbury, Bridgeport and Waterbury, CT and is located less than one (1) mile from I-84 and I-95 corridors, with easy access to Routes 67, 188, 42 and 34.
The facility was originally designed and purpose-built for heavy structural fabrication, featuring numerous overhead cranes and an abundance of power throughout the plant.
"This facility is well-suited for our expanding manufacturing operations and warehousing needs. Acquiring a space that housed a prior high-tech manufacturer is an ideal scenario, allowing our operations to slot into the footprint quite efficiently without any additional operational requirements. That doesn't happen very often," says Brown.
While the new Oxford plant will be initially set up for assembly, it will eventually serve as a full-scale manufacturing and warehousing location.
"This new location allows us to better align our production with our customers' demands in a rapidly changing e-commerce landscape," says Brown. "Through recent key investment and expansion projects, Jescraft can lead our segment in responsiveness, production and delivery by increasing stocked items and shortening lead times for non-stock items for our rapidly increasing customer base."
For over 70 years, Jescraft has manufactured industrial strength material handling equipment serving multiple segments of the construction, waste management and industrial markets. Jescraft offers more than 500 products in the categories of Construction Carts & Dollies, Stone Handling & Storage, Hoppers, Concrete & Masonry, Roofing, and Hoist & Haul. Jescraft products are proudly manufactured in the U.S.A. Learn more at www.jescraft.com.