Posted February 5, 2020
QA1 enters new era with state-of-the-art facility
New building has over 100,000 square feet of manufacturing, office and distribution space.
---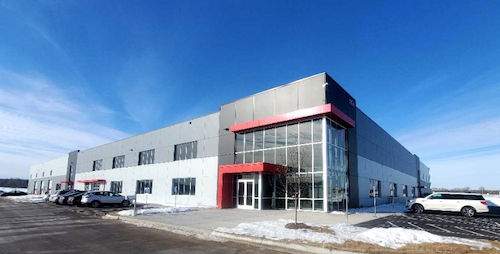 QA1 has moved to a brand-new headquarters. Located just two miles from QA1's previous facilities, this new building combines all of QA1's operations under one roof, improving efficiencies across the company.
Providing over 100,000 square feet of manufacturing, office, and distribution space, the new building will allow QA1 to continue adding to its long line of American-made products.
"We are excited to provide this new facility to everyone at Team QA1. The investment and move shows our commitment to our employees, our customers, and our community," says Melissa Scoles, President of QA1. "We are proud of what we've built in Lakeville and are excited to continue making quality American-made products here for years to come. The new facility provides space for more equipment, inventory and innovation, while providing modern workspaces for our team to be more comfortable and efficient."
This new state-of-the-art facility will have multiple improvements over the previous facilities, including dedicated machining, fabrication, and composites manufacturing cells, an R&D center, complete climate control, and planned space to grow into. This new building will provide the QA1 team with a cohesive and modern environment to produce the innovative and high quality suspension and driveline products QA1 is known for.
"We are excited to show the space off and even more excited to continue providing our customers with the highest caliber customer support and products."
New Address Effective immediately: 9574 217th Street West Lakeville, MN 55044
Motivated by the idea that experiences were best made behind the wheel, QA1 manufactures high performance suspension and driveline designed for those who #goDRIVEit. Founded in 1993, QA1 is an industry leader in performance shocks, suspension components, composite driveshafts, rod ends, spherical bearings and related accessories for the motorsports and industrial markets.
QA1 has more than 100,000 square feet of office and manufacturing space in Lakeville, Minnesota. The state-of-the-art facility includes a complete line of CNC machines, hydraulic presses, filament winding and laser cutting equipment that permit all-inclusive shock absorber, suspension component and composite driveshaft manufacturing and assembly operations. QA1's quality system is certified to the ISO 9001 standard.
For additional information and a free catalog, call 800.721.7761 or visit QA1's website at www.QA1.net.