Posted April 27, 2020
Metabo USA offers tool repair discount and free shipping
Metabo USA is offering a 50% discount on repairs and free shipping on tool repairs.
---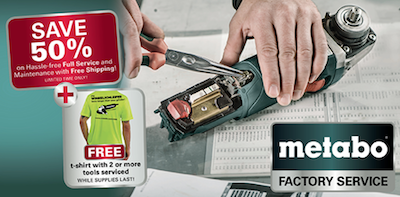 To support you in these difficult times, Metabo USA is offering 50% savings on hassle-free full service and maintenance with Free Shipping!
We are committed to providing a full repair & maintenance of your tool using genuine Metabo parts and leading-edge customer service!
Metabo Factory Service offers you the following benefits:
Serviced at Metabo North American headquarters in West Chester, Pennsylvania
Services will be completed in 5 days or less (Upon Receipt)
Free FedEx shipping to and from Metabo Factory service facility
Package your Metabo Tool and drop off at one of nearly 8,000 authorized FedEx shipping locations nationwide
Best for individual or smaller tool quantities
Metabo USA Factory Service Technicians will repair your tool with genuine Metabo parts
Your tool is returned directly to you - No need to pick it up
Engineered in Germany, Metabo's premium line of power tools are designed for professional users to provide the highest level of safety, reliability and performance. Metabo manufactures both corded and cordless power tools, as well as a full line of abrasives and accessories for metalworking, concrete and many other industrial and construction applications.
In every Metabo tool, there is traditional German engineering ingenuity. Since 1924 we have been developing innovative ideas in our Nürtingen plant and have been implementing them into pioneering tools and perfecting accessories for professional users directly on the site.
Our service, tailor-made to your requirements, also makes us a strong partner for the industrial sector. Perhaps the most vertically integrated power tool manufacturer, Metabo controls the quality of its manufacturing processes with the tightest tolerances. From aluminum die-casting to injection composite molding, we know what drives quality inside a tool. We use the highest quality raw materials to build our motors - you can feel the difference. That's why, "When it really counts," Metabo is here to match industrial challenges.
As professional tool users around the world know' when the job is on the line and when it really matters, they want a Metabo tool to get the job done right.
Click here to learn more about Metabo's tool repair services.