Posted May 20, 2020
Grex Power Tools announces Ready, Set, Go! Big Sale
Grex power tools and accessories are on sale now for the first time at 10 percent savings.
---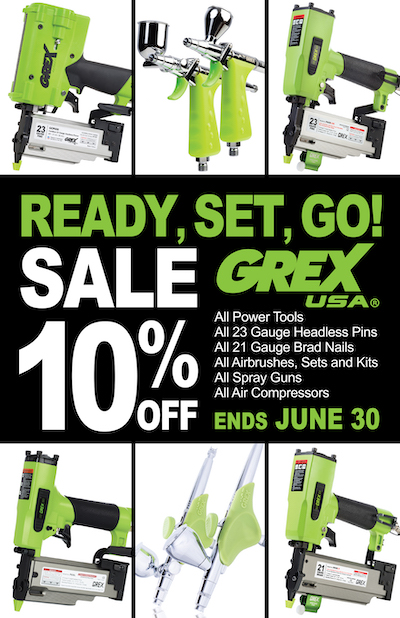 Grex is joining Americans throughout the country in an effort to re-start our economy. They are kicking off their Ready, Set, Go! Sale. For the first time in their 25 year history, they're putting all tools on sale. Everyone can enjoy a 10% savings on all the following Grex products.
All power tools
All 23 Gauge headless pins
All 21 Gauge brad nails
All airbrushes, sets and kits
All spray guns
All air compressors
Whether you're working to keep essential services running or at home exploring your DIY projects and hobbies, you need the tools to do it. Take advantage of this limited time offer to get the Grex tools that will help you get it done.
Sale begins 5/1/2020 and goes through 6/30/2020.
Contact participating local dealers or online retailers for purchase.
About Grex Power Tools: When you choose a Grex tool, you're investing in a better built, longer lasting, more powerful tool with the best considered set of features and ergonomics. It's the same award-winning robust build quality that users have trusted in GREX tools for 25 years. And every new GREX tool adds innovations that enable you to do more, easier and faster. The difference really is in the details.
GREX offers a comprehensive line of air nailers, staplers and fasteners, but is heavily recognized for its superior line of finish nailers, specifically 23 gauge headless pinners. GREX tools covers applications including finish and trim, cabinets, doors and windows, woodworking, flooring, framing, sheathing, roofing, siding, furniture, upholstering, packaging and manufactured housing as well as specialty applications such as nailing in to concrete and steel. Whatever your needs and applications, GREX has a tool to do the job.

If you would like more information about this topic, please call Raymond Wong at (323) 318-2828 or email raymondw@grexusa.com.