Posted August 6, 2020
PaintLine partners with Florida Marketing sales team
Rep agency will focus on expanding PaintLine dealer network in Florida.
---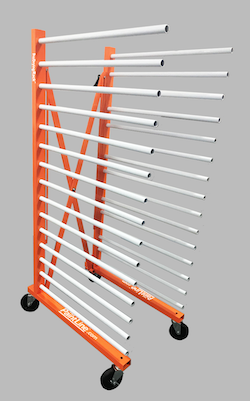 PaintLine has partnered with Florida Marketing, a professional sales team, for expanding its fast-growing dealer network in the State of Florida. Florida Marketing has five, full time salespeople with over 90 years of selling and representing paint and paint sundry related products and has relationships with Paint, Hardware and Marine retailers in every Florida county.
PaintLine provides innovative, practical and economical drying rack, spray stand, spray booth and other process-oriented product solutions for painters, remodelers, cabinet makers, millwork shops, and DIYers. Its products are sold direct-to-consumer as well as through a growing number of online and brick and mortar retailers.
"We're excited about having the Florida Marketing team help us expand our dealer network in Florida," says Kyle Robinson, president of PaintLine. "They have great relationships with some top brands and a long history of success with an extensive number of retailers throughout the state. We're happy to be represented by them."
Kevin McAuliffe and Angelo Arabatzis, partners at Florida Marketing, say "We first noticed PaintLine when they recently introduced their Portable Jobsite Spray Booth - we knew we had to find out more about the company and to see if we could help them expand their retailer network in Florida." McAuliffe ends with, "We're confident that the retailers we work with will be eager to sell such an innovative product line."
PaintLine products include:
ProDryingRack - a 50-shelf drying rack that rolls on casters, with removable shelves that can hold 25 LBS per shelf and up to 50 cabinet doors in 6-1/2 square feet of space. Assembles and disassembles easily with just 4 bolts.
ProDryingRack TT - a tabletop drying rack that can hold 20 cabinet doors up to 25 LBS each, stores flat to help manage space and features "brains optional" assembly with just 4 wing nuts.
ProDryingRack EX - a heavy-duty and yet highly mobile rack that easily expands from 20" to 60" with a quick release clamping handle that locks in the desired width. Fifteen levels featuring 30" tubes support up to 50 LBS per level and can be easily removed to accommodate large or awkward sizes. Includes heavy duty casters.
ProDryingRack SD - an integrated system designed for painting and drying cabinet doors in a vertical orientation with the least amount of effort and space. Parts hang for spraying of all sides in one step. Eighteen feet of drying line can accommodate up to 50 cabinet doors.
SprayTwirly - an innovative spray stand with three, retractable metal arms with integrated, adjustable paint pyramids for securely holding cabinet doors. Allows the operator to stand in one spot to spray the edges and top surface before transferring to a drying rack.
ProCart - a customizable material handling cart for transporting items around the shop or jobsite. Weight capacity of 2,000 LBS.
Portable Jobsite Spray Booth - a precision-manufactured, fully collapsible, aluminum frame that uses disposable plastic liners to protect the jobsite while spraying non-flammable, non-combustible finishes. This walk-in, open-faced booth sets up in minutes without tools, and packs into one carry bag for easy transport.
About Florida Marketing
Florida Marketing concentrates its sales efforts in the Paint, Hardware and Marine trade throughout the State of Florida. With five salespeople strategically located throughout the state, Florida Marketing calls on independents, distributors, buying group members, regional paint chains and national paint chains. The sales team also works trade shows; performs product demonstrations and works closely with distributor sales and outside salespeople.
For more information about Florida Marketing, please contact Kevin McAuliffe at kmcauliffe1@gmail.com or call 727-207-2769.
Visit PaintLine at https://thepaintline.com