Posted August 12, 2020
Zurn receives National Preferred Partner designation
David Weekley Homes names Zurn one of its top vendor partners.
---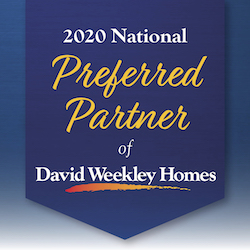 Zurn Industries, LLC is pleased to be a 16th annual National Preferred Partner Survey recipient for providing world-class service. Zurn was honored by David Weekley Homes, one of the nation's largest privately held home builders, along with eleven other manufacturers.
"We strive to provide the best in design, choice and service to our customers, and our National Preferred Partners play a vital role in helping us achieve that goal with every home we build," said John Schiegg, David Weekley Homes Vice President of Supply Chain Services. "Zurn earns the distinction of being a National Preferred Partner by consistently going the extra mile with every interaction. The team delivers quality products and superior service to our customers on every home, every time."
"Our team greatly appreciates this recognition," said Todd Anglin, Zurn National Sales Manager. "At Zurn, we always put our customers first, and relationships, like ours with David Weekley Homes, help us follow through in more collaborative ways for them. David Weekley Homes and the Zurn team reciprocally understand the industry and daily challenges our shared customers face. We work together to build on our delivery. I look forward to future projects and what's next."
The award recognizes field and manufacturing partners that have consistently operated at world-class levels, as determined by the home builder's supplier evaluation platform. A total of 142 companies were evaluated this year and sixteen percent achieved the designation of National Preferred Partner.
About David Weekley Homes
David Weekley Homes, founded in 1976, is headquartered in Houston and operates in 20 cities across the United States. David Weekley Homes was the first builder in the United States to be awarded the Triple Crown of American Home Building, an honor which includes "America's Best Builder," "National Housing Quality Award" and "National Builder of the Year." Weekley has also appeared 14 times on FORTUNE magazine's "100 Best Companies to Work For" list. Since inception, David Weekley Homes has closed more than 100,000 homes. For more information about David Weekley Homes, visit the company's website at davidweekleyhomes.com.
About Zurn Industries
Zurn Industries, LLC is a recognized leader in commercial, municipal, healthcare and industrial markets. Zurn offers the largest breadth of engineered water solutions, including a wide spectrum of sustainable plumbing products. Zurn delivers total building solutions for new construction and retrofit applications that enhance any building's environment. For more information, visit Zurn.com.