Posted October 6, 2020
Federal Process Corporation is now FPC International, Inc.
New name reflects chemical company's growing global presence and expanding portfolio.
---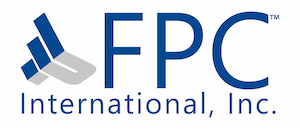 Federal Process Corporation, a diversified manufacturer of specialty chemicals and premium-quality building products and supplier of innovative plumbing products, announced today that it is rebranding as FPC International, Inc.
As the company has grown, building its product offerings through its own research and scientific innovations, along with recent acquisitions, the action is a more fitting reflection of the company's expansion into a much broader range of niche industries.
"We have evolved significantly over the course of our rich history, and our name change is an appropriate action to more clearly demonstrate our growing presence in the markets we serve," said Jon Outcalt, Jr., President, FPC International, Inc. "With that said, as we grow, we continue to take pride in our commitment to maintaining close connections with our customers and providing expertise and counsel on a very personal level."
Today, FPC International, Inc. remains loyal and dedicated to its local roots, retaining its global headquarters in Cleveland, and manages five distinct businesses within the building product and specialty chemical industries, including:
Founded in 1915 as Federal Process Company, FPC International, Inc. is a family-owned and professionally managed company with a highly successful track record of acquiring and growing niche industrial businesses. Originally a manufacturer of pipe thread sealants, FPC International, Inc. has leveraged its extensive chemical expertise and market knowledge to establish highly differentiated products offered under trusted brands that are well recognized within their respective markets.
The company prides itself on recognizing and developing excellent management teams and creating an environment that promotes entrepreneurship throughout the organization. Using its robust sales and marketing capabilities and operational expertise, FPC International, Inc. continues to cultivate niche businesses into market leaders. For more information about the company, please visit www.FPCintl.com or call 1-800-846-7325.