Posted November 4, 2020
Western Global issues new fuel tank digital catalog
Download catalog has 56 pages of portable tanks and dispensing equipment listings and specifications.
---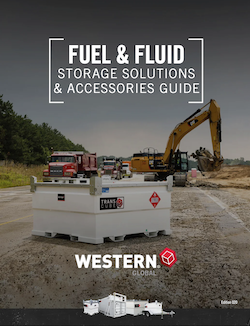 Western Global, a leading provider of portable tanks and dispensing equipment for the storage and handling of fuels, lubricants and other fluids, introduces a new, comprehensive product catalog that simplifies and improves customers' ordering experience. The 56-page fuel tank digital catalog features product specifications, application-specific information and embedded product videos.
"The catalog gives our customers the opportunity to see our products in a new way," said Barry Truan, Western Global vice president – Americas. "We continue to add different sizes, configurations and accessories to our lineup that will help customers maximize efficiency, and the catalog is a great way for them to see the benefits of those innovative products."
The new catalog, available in a browser flipbook and as a PDF download, displays Western Global's full line of storage tanks and accessories. Customers will find a selection of hose reels, solar panels, fuel meter systems and more to pair with a fuel tank to create a complete fuel solution. Viewers can download a separate Small Tank and Accessory Quick Reference or Large Tank and Accessory Quick Reference from the catalog to see the full range of options.
Seeing the available configurations in one place makes it easy for customers to order the correct pieces. If they already own a tank and are looking to add a filter kit or tank gauges, for example, the information in the catalog shows the compatible options.
One of the newest Western Global products featured in the catalog is the TransCube Cab. These transportable, environmentally friendly double-walled fuel storage tanks offer an efficient solution for onsite fueling and auxiliary fuel supply. They meet multiple worldwide transport regulations and allow users to quickly refuel machinery around a jobsite. Because transporting and handling fuel requires reliable equipment, Western Global engineered the TransCube Cab with a 110% containment design to capture and contain any potential drips or spills that could occur.
Customers who are interested in the TransCube Cab can review the compatible accessories, such as pump kits, fuel delivery hoses and fuel management systems in the catalog.
"The feedback we have received so far has been tremendous," Truan said. "Customers like how interactive it is, with the embedded videos and comprehensive search feature. They can easily find the product to best fit their operation."
View the full product catalog, request a printed copy, or visit western-global.com for more information.