Posted November 24, 2020
Mujjo launches Black Friday sale
Company offers 25 percent off phone and tablet cases through December 1.
---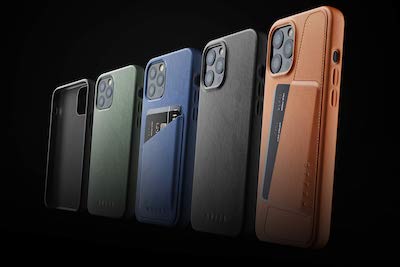 Mujjo is offering 25 percent off all our stock on our site Mujjo.com, including new iPhone 12 cases. You get the discount when you use the code #25off at the checkout. We'll be starting a little early, November 25, and will finish the sale on the 1st of December.
Mujjo iPhone 12 cases feature:
Made with high quality full-grain, vegetable tanned leather that ages beautifully and acquires a patina unique to your use.
Lined with luxurious Japanese microfiber with a sophisticated satin-like finish.
Available with a leather card pocket designed to hold 2 to 3 bank, ID or commuter cards.
The camera opening and mute button feature a leather chamfer that subtly curves inwards.
Volume and power buttons are fully covered in leather, specifically designed for responsiveness.
The leather bezel rises 1mm above the edge of the screen to protect it from abrasive surfaces.
Fully wrapped with premium quality leather to create a super-slim profile following the contours of the device.
As always, these cases bring excellent form and functionality by simultaneously protecting your device and wrapping it in our acclaimed full-grain vegetable tanned leather, adding a warmer and 'grippier' feel. They are co-developed to create durable finishes that become more beautiful with wear, and offer you protection from everyday knocks and bumps. Plus, our rich leathers pair elegantly with the iPhone's black-slate front.
Visit www.mujjo.com to shop.