Posted December 2, 2020
Arrow Fastener Company releases new product catalog
Digital catalog features three new pro- and consumer-focused products.
---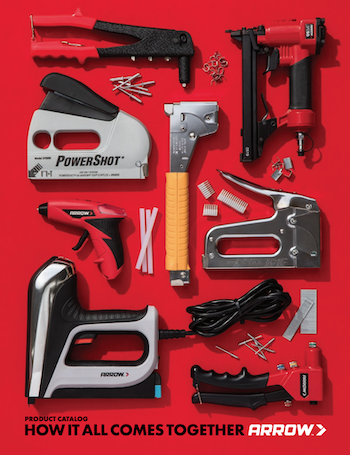 Arrow Fastener Company, the leader in manual, electric and cordless fastening tools, and manufacturer of the world's best-selling staple gun, the T50, released a new 48-page product catalog that features the full line of Arrow Fastener staple, nail, rivet, glue and grommet tools.
The new catalog also features three brand-new products, the HT50MG magnesium hammer tacker, the T21X fine-wire staple gun and the T601 6-in-1 staple gun.
The catalog also highlights the GT300 professional high-temperature glue gun, named "Best Glue Gun" in the Popular Mechanics 2020 Tool Awards.
Available now as a downloadable PDF and as a traditional printed version in December 2020, the full catalog from Arrow Fastener features detailed product descriptions, pictures and technical information. Readers can find which consumables are compatible with the product listed next to each tool, along with information on whether the product is best suited for the DIYer, professional or both.
Showcasing Arrow Fastener's wide range of fastening tools, the catalog is broken down into the following sections:
Staples and nailers including manual staple guns, electric staple guns and brad nailers, and pneumatic products
Hammer tackers
Rivet products
Glue guns
Grommet kits and tools
Consumables including staples, nails, rivets, glue sticks, washers and grommet refills
"With versatility and ease of use top of mind at Arrow Fastener, we've continued to keep an eye out for the latest tool trends and developed a premium product catalog that demonstrates our understanding of what our customers look for. We aim to show how we can help end-users best tackle projects from start to finish," said Bill Sokol, vice president of marketing, Arrow Fastener. "From cover to cover, customers will see an unparalleled breadth of products, including more multiuse, oil-free and battery-operated products for maximum efficiency and comfort."
Since 1929, Arrow Fastener has been recognized for its innovation, performance, style and functionality in the tool industry, offering a full range of project solutions. Known for creating the world's best-selling heavy-duty staple gun, the T50®, Arrow Fastener continues to optimize products according to the needs and challenges of professionals and DIYers alike.
Arrow Fastener Company, LLC is a U.S.-based manufacturer of staple guns, glue guns, and rivet tools located in Saddle Brook, N.J. Since 1929, Arrow has been a leader in fastening solutions in the big box home improvement and traditional hardware retail channels. For more than five decades, the T50 staple gun has been the industry standard, as the world's best-selling staple gun.
Today, Arrow Fastener is a trusted supplier of reliable, innovative and affordable products for the building trade professional and do-it-yourselfer. In July 2017, Arrow was acquired by Hangzhou GreatStar Industrial Company, a $2.2B Chinese manufacturer of forklifts, hand and power tools, robotics systems, and laser measuring devices. Arrow now serves as GreatStar's U.S. headquarters for sales, marketing, and distribution of GreatStar's branded tool product portfolio.
For more information, visit www.arrowfastener.com.