Posted January 4, 2021
Walter Surface Technologies acquires Drillco and Triumph Twist Drill
Drillco and Triumph will continue to operate under their own respective brands.
---
Walter Surface Technologies announced the acquisitions of cutting manufacturer Drillco, and Triumph Twist Drill, a manufacturer of tooling and drilling solutions.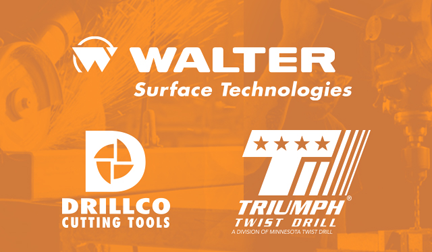 Through these acquisitions, Walter is expanding its cutting tool product offering to metalworkers complementing its high-end metalworking products.
"We are very excited to welcome both Drillco and Triumph to the Walter family. Drillco brings a solid distribution network and product expertise that will allow us to continue our mission to help our customers work better. This is complemented by Triumph's state-of-the-art manufacturing facility of quality cutting tools. Walter is always looking to provide solutions that answer the needs and challenges facing end-users in the metalworking industry. Now, with these two acquisitions, we can help our customers to be more productive with durable products for a broad range of applications," said Marc-André Aubé, CEO of Walter.
"This transaction is an unequalled opportunity to build up our activities in the North American market as we continue to evaluate other growth strategies, namely through accretive acquisitions," he added.
Sandra (Missy) Woodard, CFO of Baton Rouge, Louisiana-based Drillco, welcomes the new relationship: "We saw in this opportunity the perfect alignment of both products and values. We are proud to see Drillco adding its cutting tool solutions to Walter's renowned and robust offering."
Scott Allison, president, Minnesota Twist Drill, adds: "The fit is right and we could not be more proud to be a part of the Walter team." Headquartered in Chisholm, Minnesota, Triumph is a division of Minnesota Twist Drill.
Following this transaction, both Drillco and Triumph will continue to operate under their own respective brands. The transaction is effective immediately, and activities for both customers and suppliers remain unchanged, the company said.