Posted January 6, 2021
IRCG Weekly Pandemic Revenue Index shows 21.3 percent increase
Three participating firms reported revenue increases greater than 50%.
---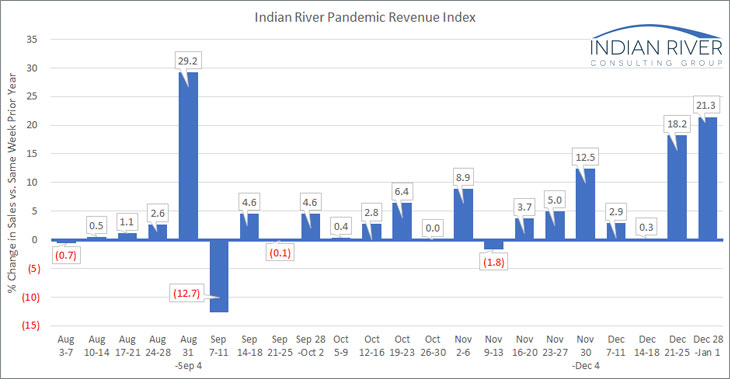 Indian River Consulting Group's (IRCG) weekly Pandemic Revenue Index for the work week of Dec. 28, 2020-Jan. 1, 2021, indicated a 21.3% increase compared with the same week a year ago.
Out of the 13 reporting firms, 11 respondents reported increases including three reporting greater than 50%.
Two companies reported declines with both in the single digits.
IRCG's distributor Pandemic Revenue Index gives distributors a weekly quantified view into how other distributors in the industry are faring as the global COVID-19 pandemic progresses.
"As expected, the week ending on New Year's Day had similar results to the week ending on Christmas. Having these holidays on Friday, as opposed to 2019 when they fell on Wednesday, likely drove the gains reported," said Mike Emerson, IRCG Partner.
For questions about the Pandemic Revenue Index, the cash flow modeling spreadsheet or stress-testing a business, please reach out to Mike Emerson at memerson@ircg.com.
Learn more at www.ircg.com