Posted January 27, 2021
NAVAC Inc. names Ice-Kold as official repair center partner
Wisconsin-based company with four decades of HVAC/R experience to handle repairs for NAVAC's full portfolio of tools.
---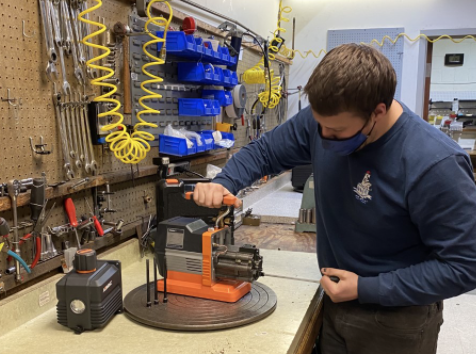 NAVAC, the world's largest supplier of HVAC vacuum pumps in addition to a wide array of tools, gauges, charging machines, recovery units and other industry-specific items, names Wisconsin-based Ice-Kold as its official repairs center partner.
Ice-Kold will handle repairs for the full portfolio of NAVAC's HVAC/R tools, which are designed to simplify and streamline the jobs of today's busy service technicians.
Initially founded in 1978 as Midwest Refrigeration, Ice-Kold has more than four decades of experience repairing HVAC/R tools – a timeframe spanning various industry technological advances and trends. For HVAC's modern line-up of tools, then, the company is well-positioned to provide expedient, precise repairs that are as close as possible to original factory specifications.
NAVAC has a history of market-facing innovation. Among other new solutions, the company introduced the industry's first DC Driven Smart Vacuum Pump and 4-Cylinder Commercial Grade Recovery Unit. NAVAC offers a wide selection of vacuum pumps from 2 cfm cordless to 23 cfm industrial grade pumps, and recovery units for various applications.
"We are excited to begin our partnership as NAVAC's authorized tool repair center," said Jared Saunders, General Manager for Ice-Kold. "After meeting with the NAVAC team, experiencing the sophistication of their tool solutions and understanding their commitment to customer service, it was clear that our approaches and dedication aligned well. We look forward to a successful, mutually beneficial partnership for years to come."
"Ice-Kold is an experienced repair center serving HVAC contractors for over four decades. They share NAVAC's values concerning excellent customer services. We are greatly looking forward to working together and offering a quality and efficient repair service for NAVAC HVAC contractors," said Jason Sierra, Sr. Manager – Technical Support for NAVAC.
NAVAC is a global manufacturer that has dedicated over 25 years to the R&D and manufacturing of industrial vacuum solutions and HVAC/R tools. NAVAC draws upon its commitment to technical innovation, strong customer service and robust R&D allocation to deliver solutions offering unsurpassed efficiency, accuracy, and ease of use.
Comprising a full lineup of tools, gauges, leak detectors, vacuum pumps and recovery units, among other solutions, NAVAC's product portfolio is designed with one overarching concept in mind: user-friendliness. The company seeks to meet a need for simpler, lighter, faster solutions that expedite service without sacrificing accuracy.
For more information, www.navacglobal.com.