Posted February 18, 2021
IRCG Weekly Pandemic Revenue Index returns to mid-single digits
Index reports a five percent increase for week YOY.
---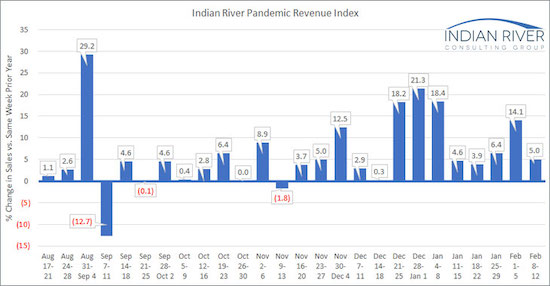 Indian River Consulting Group's (IRCG) weekly Pandemic Revenue Index for the work week of Feb. 8-Feb. 12, 2021, indicated a 5% increase compared with the same week a year ago. Out of the 13 reporting firms, seven respondents reported increases ranging from mid-single digits to above 33%. Six companies reported declines ranging from 1% to 12%.
IRCG's distributor Pandemic Revenue Index gives distributors a weekly quantified view into how other distributors in the industry are faring as the global COVID-19 pandemic progresses.
"After a double-digit growth week to start February, the index has returned to mid-single digits, which was the pattern through the better part of January. As we near the one-year anniversary of the index, we'll be publishing some of the trends we've seen for the past 12 months as we wind the index down," said Mike Emerson, IRCG Partner.
Find free resources for distributors on responding to the pandemic, including a cash flow modeling spreadsheet and instructional webinar, and a cost-reduction planning webinar, at IRCG's website: ircg.com/stress-testing.
The index was created in March 2020 to try and provide a contemporaneous view on prevailing business conditions as the coronavirus began disrupting business. The index is made up of wholesale distribution companies in different industry verticals across the United States. Participants include companies with local and national footprints.
The PRI data chart will be updated weekly. It is approved for external publishing with proper attribution. Find the PRI chart and more resources at ircg.com/stress-testing.
About Indian River Consulting Group
Indian River Consulting Group (IRCG) is a business advisory services firm and a longstanding and recognized leader in the distribution market. Founded in 1987, IRCG specializes in helping distributors and manufacturers accurately diagnose problems and identify risk-bound alternatives so they can take their next steps with confidence. Learn more at ircg.com.