Posted December 15, 2021
NAHB: 25% of New Single-Family Homes are Infills or Teardowns
Dense population regions see highest rates of teardown activity.
---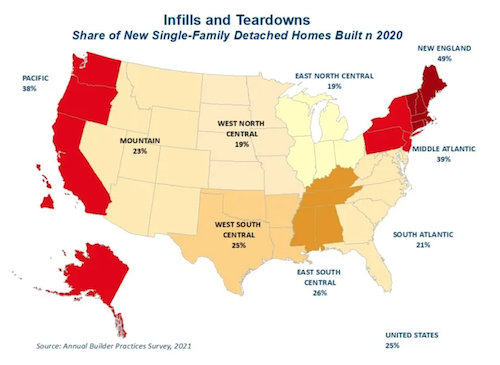 According to the latest Annual Builder Practices Survey (ABPS), one in four new single-family detached homes were built in established neighborhoods in 2020. Homes built on infill lots constituted 18.6% of new homes, while homes built after tearing down an existing building constituted 6.4% of new homes.
The lack of developable land is likely to boost infill development and helps explain its relatively high market share. Given the record high lot shortages reported by the September 2021 survey for NAHB/Wells Fargo Home Market Index (HMI), new homes built on infill lots will likely command a growing share.
Market share of homes built on infill lots varies greatly by geography, with a share of nearly 25% or more in New England, the Middle Atlantic and the Pacific but barely 12% in the Midwest. Teardowns follow similar suit, with a share of 10% or more in New England, the Pacific and the East South Central. The substantial regional differences in the market shares of teardowns reflect the diverse age of the housing stock, distinctive climate effects on housing durability, as well as varying severity of developable land and lot shortages in different regions.
Click here to read more of this article.
Source: www.nahb.org